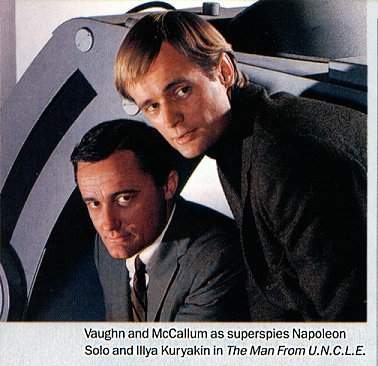 from Biography Magazine, April 2001. Where Are They Now?
The Men From U.N.C.L.E.


Robert Vaughn and David McCallum don't get mobbed by young women any more, but there still are very few places The Man From U.N.C.L.E. stars can go without rating instant recognition.
"I realized how popular the show had become around the world the first time I went to London after it had been on a couple of years," says Vaughn, who played superspy Napoleon Solo. "There I was, Heathrow Airport after getting off the flight, and it was like the Beatles has arrived. There were thousands of girls, screaming and ripping at my clothes. And every time I would arrive in other countries, Australia, Singapore, Hong Kong, Japan, same kind of enormous fan swamp."
The Man From U.N.C.L.E. (1964-68) was one of the most popular secret-agent shows of the Cold War 60's. And despite the actors' long careers, the show remains their biggest claim to fame. Vaughn seems more comfortable with that than McCallum, who played Russian Illya Kuryakin.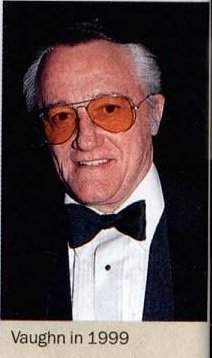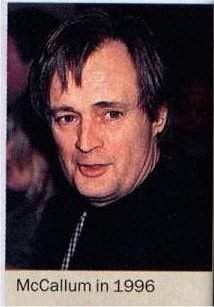 "It's nice that people remember it with affection," McCallum says. "But frankly I let other people bring it up. People go on about it and I just sort of sit and listen. It's nice that people feel that way. But I think there are other things in life."
For McCallum, that includes extensive work in the theater. Last year, he played the title role in Shakespeare's Julius Caesar in Central Park. Before that, he did Amadeus on Broadway. He also does guest spots on shows such as Law & Order and Sex and the City and records books on tape.
"I'm lucky that, even at the age of 67, I'm working all the time." McCallum and his wife of 35 years, Katherine, have lived in New York for the past 30 years.
Vaughn, 68, married since '74 to actress Linda Staab, also lives on the East Coast.
He often plays movie villains, as in 1998's BASEketball, and is also working on an autobiography: Christ, Shakespeare, Ho Chi Minh: As I Knew Them.

-David Martindale