Newsday, 8/21/00
'Caesar's' Driven To Abstraction
by Linda Winer Staff Writer
THEATER REVIEW JULIUS CAESAR. Directed by Barry Edelstein, with Jeffrey Wright, David McCallum, Jamey Sheridan, Dennis Boutsikaris. Sets by Narelle Sissions, costumes by Angela Wendt, lights by Donald Holder, music by John Gromada. New York Shakespeare Festival, free at the Delacorte Theater, Central Park. Through Sept. 3. Seen at Saturday's preview.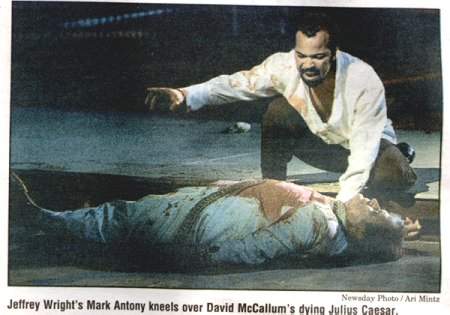 THE LAST TIME the New York Shakespeare Festival got caught up in the machinations of "Julius Caesar" was 1988, and Joseph Papp's Shakespeare marathon had just begun to fight. As we recall, Al Pacino's weird Mark Antony was spitting and hanging onto truth like a pit bull on an ankle, and Martin Sheen's uneasy Brutus wore a pompadour wig and what looked like a tennis dress.
The fault, dear Brutus, seemed less in the stars than in the concept-or lack thereof-producing a straight-faced toga affair in which bad-hair days went on so long they may well have toppled empires.
One thing is certain about the "Julius Caesar" that opened the second half of the festival's 45th free summer in Central Park last night. Nobody is likely to complain that Barry Edelstein's production is stingy about concepts. Let's see, Angela Wendt has dressed the Soothsayer and the Roman citizens as a Bedouin tribe, servants tend to wear Chinese pajamas, the Senators are often in business suits with shoulder drapery and fascistic boots. And, oh, yes, Jeffrey Wright-hot off his Dominican drug dealer in "Shaft"-returns to his stage roots as a Mark Antony whose African caftan stays open for maximum early display of a buff new Hollywood chest.
Edelstein, artistic director of Off-Broadway's admirable Classic Stage Company, may be saying something very profound about the international universality of political power plays. But the result is willful stylistic gibberish. Narelle Sissons' setting has Rome as a construction-or deconstruction-site, with a huge head of David McCallum's Caesar hanging from a crane at one side, an enormous dismembered hand on the other, with half-painted stairs and spots of urban graffiti. At the start, just after our gypsy-queen Soothsayer (Ching Valdes-Aran) trills an ancient desert howl, someone paints the word "CEZR" on a backwall.
All this time-jumbling multinationalism is no introduction for McCallum's CEZR-sorry, Caesar-a portrayal so eloquently high-strung, pampered yet noble, that we find ourselves hoping he foils the assassination to live in the second act. Alas. While McCallum, so memorable last season in "Amadeus," deserves a respite from references to his youth in "The Man from U.N.C.L.E.," Wright, for the moment, is playing the Man.
Wright, who won his Tony as Belize, the nurse in "Angels in America" and played an insufferable Fool in the Public's last "King Lear," goes for a heavy-smoldering Antony whose insinuating croon is dangerously on the cusp of Eartha Kitt. Jamey Sheridan, best known here in meat-and-potatoes American plays by Miller and O'Neill, makes a stolid Dudley Do-Right Brutus, who grows in strength through the evening but seems to have stepped in from another heartland play altogether.
Dennis Boutsikaris, best known here for his sterling work with new American playwrights, plays Cassius with the feral, small-spirited vernacular of a New York politician. And, as if the styles were not bumping into one another enough with the major characters, there is Ritchie Coster, a little-known actor who will surely not be that for long. His Casca-here spelled Caska-is a dissolute, debonair, British-speaking febrile neurotic who seems to believe-and almost makes us wish-the play were about him.