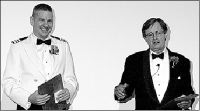 From "Stripe"
May 27, 2005
OIF Soldier honored at Ash lecture

Cmdr. Craig T. Mallak and TV star David McCallum discuss medical examiner work.
by Jacki Flowers
Armed Forces Institute of Pathology

The 21st Annual James Earl Ash Lecture, held May 19 at the Armed Forces Institute of Pathology, was an evening for honoring America's service members.
The AFIP recognized its own commitment to supporting the troops, and honored a young Soldier, Staff Sgt. Juanita Wilson, who epitomizes the dedication, strength and spirit of today's Army.
Dr. Florabel G. Mullick, AFIP principal deputy director, introduced Wilson, who received roaring applause, praise and even some tears as she talked about her experiences in Iraq as an Operation Iraqi Freedom Soldier. Joined by her husband and daughter, Wilson thanked her family for their support, and she thanked the staff at Walter Reed Army Medical Center. "They provided me the best medical care I could have ever received," she said.
"She truly reflects the best of us," Mullick said of Wilson.
The lecture, "Reel to Real Forensics," featured an appearance by David McCallum, star of NBC's military drama series, "NCIS." Along with Cmdr. Craig T. Mallak, U.S. Armed Forces medical examiner, McCallum, known on the weekly show as "Ducky," led a presentation comparing the real-life work of the Armed Forces Medical Examiner staff with that of the fictional naval investigators appearing on "NCIS."
AFIP staff members Dr. Michael D. Coble and Albert Judd received awards for their service to the institute from Col. Renata B. Greenspan, AFIP director, and American Registry of Pathology Executive Board President Dr. Daniel L. Seckinger
-------------------------------------------------------------------------------------------
The Armed Forces Institute of Pathology (AFIP) each year hosts the Ash Lecture, an event that features a keynote speaker addressing a topic relevant to its work and mission. This year, the lecture featured two speakers, Cmdr. Craig Mallak, the Armed Forces Medical Examiner (ME) and David McCallum, the TV actor who plays a medical examiner on CBS's primetime show, NCIS (Naval Criminal Investigative Service).
Together, Mallak and McCallum presented the lecture, which played on the theme "Reel to Real," and illustrated the differences between what is represented in the media and on television shows and what actually happens day-to-day in the AFIP and ME offices.
Prior to his lecture, McCallum toured the labs of the AFIP for an up-close look at what goes on behind the scenes and to better understand how the organization works. He also toured the National Museum of Health and Medicine, where he saw artifacts relating to President Lincoln that had been portrayed on an episode of NCIS.
McCallum's visit helped to prepare him for the lecture that evening and to allow him a greater understanding of the real world of pathology as opposed to "reel" world of television.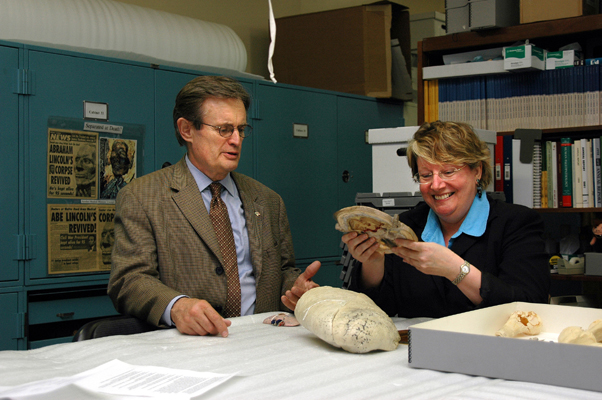 ------------------------------------------------------------------------------------
From New Zealand TV Guide, July 16, 2005:
MY BEST ROLE YET
Sixties heart-throb David McCallum gives new meaning to the phrase "You are never too old to learn". At 71, the former Illya Kuryakin is revelling in playing the eccentric Dr Ducky Mallard on NCIS.
David McCallum gave a lecture last month on pathology - and he wasn't acting.
McCallum, who plays eccentric medical examiner Dr Ducky Mallard in the drama NCIS, was invited to speak to US armed forces pathologists by their head, Commander Craig Mallak.
It was a very spcial honour, says the actor who became a household name playing Illya Kuryakin in the hit 60s spy series The Man from UNCLE.
At the end of the 70s he returned to TV starring alonside Joanna Lumley in Sapphire and Steel and has since appeared in a host of television shows and been a regular performer on the New York stage.
However, now 71, McCallum says Ducky Mallard is his best role ever. "I love what he does, I like the humour of his mind. I like the fact that he that he rambles on but, more than that, he's given me the opportunity to learn so much." the Scots-born US resident explains.
And learn he has.
"It's actually a joke at the studio that I've taken it so seriously but I find that I have to," he says, adding that he regularly attends autopsies.
"I've handled cadavers and I've seen cadavers and I've seen the process of bringing in people from traffic accidents, people who were alive an hour before," he says.
"Once you've done it and seen the way the professionals do it, it becomes more of a science. I don't get freaked out about it any more.
"It's something where the imagination is more terrifying than the reality."
McCallum says he's had to learn a great deal of physiology in his two years on NCIS. "The parts of the body and how the heart works, the bones and the bone structure and the brain - each show produces another problem that means I've got to read and reserch."
He takes satisfaction in knowing that the officers at the real Navy Criminal Investigation Service respect that the show generally "gets it right".
"That was wonderful to hear," he says, admitting he'd never heard of the organisation before being cast as Ducky Mallard.
Since then, he's been to NCIS headquarters in Washington, addressed agents at a conference in Los Angeles and even visited the NCIS training centre in Georgia to see how agents train.
"I think they like the show, I really do," McCallum says. "We've given the NCIS an identity which it didn't have before because nobody knew about it. I'm just hoping that by giving the NCIS greater recognition the government will put it's budgets up."
McCallum's initial concerns that the real-life agents might not like the way they were protrayed on screen proved unfounded when he met some of them.
"I said, 'Do you think Ducky's a bit extreme' and they looked at each other, laughed and said 'No, a lot of the agents are very much like the ones on the show," he says.
"They're all civilians. They are not a part of the navy or the marines. They're employed by the Department of Defence but they're individual specialists."
Which helps to explain why the New York based McCallum is happy to spend nine months a year in Los Angeles filming NCIS, despite the forced separation from Katherine, his interior designer wife of nearly 40 years.
"It's given me the opportunity to do something other than just act," he says. "To give the lecture with Commander Mallak - that was very special."