From TV Radio Mirror, Oct. 1965
The "other man" tells for the first time how
"David McCallum Stole My Girl!"
by Paul Segal
The handsome young man shrugged, and his eyes were eloquent with despair. "I love Jill Ireland very much," he said, "but Dave has won her from me." The scene was London. The speaker was Richard Lyon, who had once been a leading juvenile actor in Hollywood and was well-known here in England as son of two great old-time stars of American movies, Ben Lyon and Bebe Daniels. The time was the day after Jill Ireland's secret marriage to the actor who would one day set the USA on its ear in NBC-TV's The Man From UNCLE, David McCallum. And there was mistaking it, Richard Lyon was heartbroken. The heartbreak was understandable. For the previous two years, Jill Ireland had been Richard's steady. They did everything and went everywhere together. Gossip columns carried almost daily hints that marriage was in the cards for them. And marriage was in cards-- for Jill. Suddenly, she took Richard--and the entire British movie industry--by surprise and became Mrs. David McCallum.
"I wanted to marry her very much," Richard admitted. Then why hadn't he? "I think marriage is a very serious stelp, particularly in our business. We weren't ready for it. but we were always together, and always the closest of friends."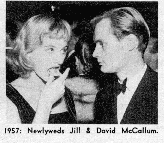 But if Richard thought Jill wasn't ready for marriage, Dave thought otherwise. He stepped in where Richard feared to tread--and carried off the prize. Where Richard was cautious, forceful Dave took the initiative. For Dave, there were non of the hesitations about marriage which had spattered the two years of Jill's and Richard's romance. For Dave, it had to be action.
"As far as Jill and Dave were concerned," said Anthony Perry, producer of the film where they first met and a witness at their wedding, "it was love at first sight. I saw their first meeting, on the set of The Secret Place. No one could have doubted it."
But Richard Lyon never knew of it until less than twenty four hours before the wedding actually took place.
"She had been pretty busy," he recalled, "and we hadn't seen so much of each other--though I had taken her out to dinner and to films. I called her on the Friday, the day before the wedding, to ask her to lunch.
"After lunch, she told me she was getting married. She didn't just come straight out with it, but you can sense these things.
"It was a pretty big shock to me, I can tell you. When I left, I said I'd call her sometime. She didn't give me a clue the wedding would be so soon!
"I heard about the wedding on the Saturday afternoon. That was a real shock. I didn't know what to do. Then I did the only thing possible--I rang Jill and wished them every happiness." But he was quite upset!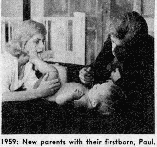 Was he too long in putting the vital question?
"Perhaps. But I like to take my time over these things. Marriage is a big step--it's for keeps."
Richard was a staunch RomanCatholic, and Jill was not. Did religious differences stand in the way of their marriage?
"They never entered into it."
Though publicity stories claim Jill only met Dave three weeks before their wedding--on the location filming of Robbery Under Arms in Austrailia--they had, in fact, met almost a year earlier, on The Secret Place.
And she had, in fact, introduced him to Richard several times--as "the man I am filming with."
"Richard and I were never engaged," she explained. "I was only 18 when we first met, and a lot can happen in three years.
"I fell in love with David a year before we were married...but I was terribly sorry that Richard was so upset. We were very good friends. My parents thought the world of him."
<--------------------snip stuff about Jill and Richard Lyon here--------------------------->
That was how Jill Ireland's romance went with Richard Lyon. But what is not so clear is why she ever left him. Plainly, Dave won her over--Dave the dynamic, Dave of the blue-gray eyes.
"David is a romantic idealist," she said once--and it was perhaps this romantic idealism which appealed to her so much.
Romance, too, is a thing that appeals to Dave himself. Romance in acting, for instance.
"I'd love to do romantic roles," he said. "Good, meaty romantic lead parts like they had in all those films that were so popular before the last war.
"Some people called them hokum--but these pictures were real entertainment. They didn't need to have a 'message.' They set out to entertain and did it superbly."
Romance in music, too.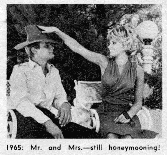 David has always been a great music lover. One of his first-ever jobs after leaving school was with the famous Glyndebourne Opera Company, deep in the heart of England's southern countryside. "It was the most beautiful stage I have ever worked on," he says. "I was assistant stage manager there, and ran the props department for five operas.
"The wonderful thing about working at Glyndebourne--especially on operas like Cosi Fan Tutte--was that, once the stage was set, you didn't have much to do, so you could listen to the music. And that I loved."
This month, David steals a few more hearts--as a song-and-dance man!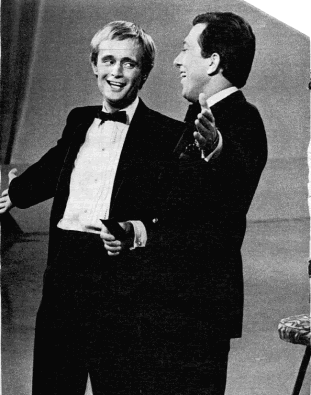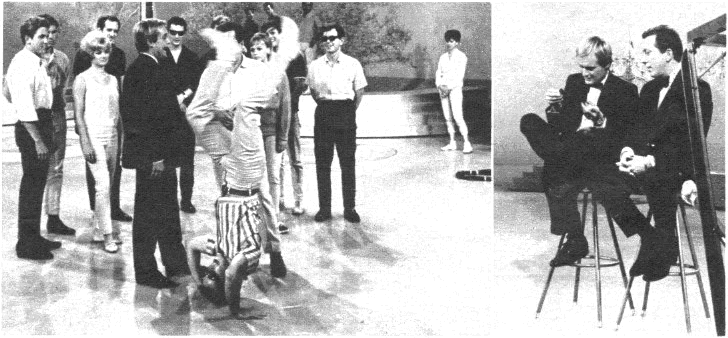 Rehearsals for the Andy Williams show
His love for the romance of music and the romance of acting more than justify the "romantic idealist" tag Jill gives him. But, like all good Scots, he has his practical side too.
For instance, he says he would like to try his hand at directing a film one day--but as he points out: "It needs a lot of artistic maturity. And you must first make enough money to succeed." (NBC-TV's Man From UNCLE can be a "practical" help here!)
And he is practical with his hands. "I like to make things. I'm a fixer. Not always on the accurate side, of course! I remember at school when we had pottery classes, they used to fascinate me.
"Throwing the stuff on the wheel and then bringing it up and watching it take shape under your hands--this absorbed me completely. but I was often more keen than accurate, and the clay would fly off the wheel and onto the nearest wall."
When they lived in London, Dave had a fully equipped handyman's workroom on the upper floor of their house, complete with an electric drill, a large range of saws and a host of other tools.
The drill was birthday gift from Jill--"and I regretted it ever after," she laughed. "I couldn't stand the noise it made--and he used it all the time! I was frightened he might come boring through the ceiling with it."
He's practical with a camera, too, and always has been. So was Richard Lyon--he was a professional photographer at one time, and said sadly after the breakup: "My favorite model and pin-up was Jill..."
Now, however, Jill models for cameraman Dave--though these pictures are usually kept for the family album. He does all his own processing and printing, too.
A romantic idealist with practical inclinations, that's Jill's Dave. He has a commanding manner when he speaks, though is voice is quiet. He has one of those arresting, lean faces that interest sculptors. He has a mass of unruly hair. He has expressive hands which "help" him when he talks.
He has a ten room Spanish style house in the hills of Hollywood. He has three children.
And he has Jill...his most important achievement of all.