Around the World Under the Sea press book, 1966 (click magazine cover for color version)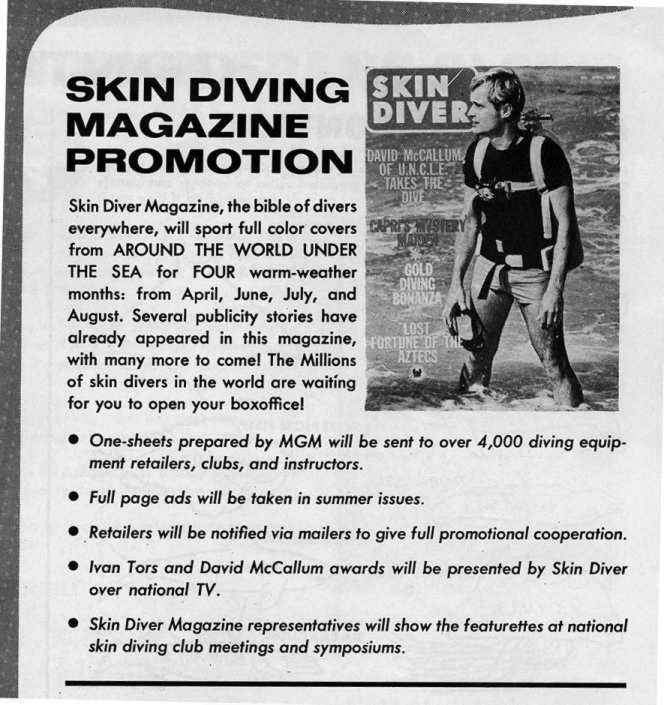 David McCallum, one of the busiest actors in Hollywood, devoted his weeks of free time between the end of last season's "The Man From U.N.C.L.E." television production and the beginning of work on the 1965-1966 episodes, starring in a rugged new Metro-Goldwyn-Mayer picture, "Around the World Under the Sea." The Ivan Tors underwater adventure-drama was filmed on locations off the coasts of Florida and Nassau.
Along with Lloyd Bridges, Shirley Eaton, Brian Kelly, Keenan Wynn and Marshall Thompson, McCallum spent most of his time before the cameras in a scuba outfit, getting his oxygen through a face mask.
"Diving to great depths under the sea and observing the amazing marine life was a tremendous experience," he says.
So enthusiastic was the actor that he insisted on doing all his own underwater stunts. However, this is nothing new for McCallum, who refuses "doubles" for the dangerous action he performs in the "U.N.C.L.E." series.
"My idea is that you're getting well paid for acting," is the way he puts it, "and that you ought to give a producer his money's worth."
McCallum has always had a practical view of show business. "When I first began acting I looked younger than I actually was and it was something of a handicap as far as getting a variety of roles was concerned. So I played all the 'old man' parts I could, with the help of make-up, of course."
His role in "Around the World Under the Sea" gave him a change of pace. While he plays an electronics genius who specializes in marine mechanisms, he is also a guy who has an eye for the ladies. And when he makes passes at the girl in this picture, he is reaching for a truly luscious plum.
Shirley Eaton is the actress whose body was adorned only by a coat of paint in "Goldfinger."