Please be patient and let the picture load completely. Use your mouse to roll over the images, and click on special features marked with a *
photo collage by Ann B and Ellen
Messages from Members of Channel M:
Thanks for the movies and shows and the endless autograph sessions. Thanks for being so laid back about the website. Thanks for opening me up to new ideas with your audiobooks and plays. Thanks for all friendships I've made through being a fan of yours. You deserve many more happy years!
Ellen Druda
---

Dear Mr. McCallum,
Everyone has a few senseless,glowing, affectionate memories from childhood, and you've always been one of mine. It has been a pleasure to grow up and see how wisely my youthful esteem was bestowed. Thank you, and best wishes, -Vicky Loebel
---
Have a Happy and Healthy Birthday, and I am looking forward to seeing you on the new show for many years to come. Can't wait!!! Ekay
---
Happy Birthday David!
Thank you for all the years of wonderful theater, television and movie entertainment. You are truly one of a kind.
Sincerely,
Bonnie
---
I wish you the happiest of birthdays, Mr. McCallum, & may you be blessed with at LEAST as many more of the same! Your admirer, Connie Xenia Crouch
---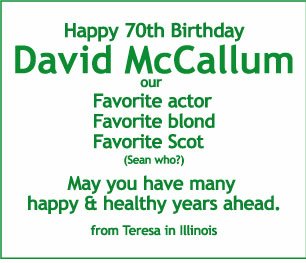 ---
Hi David,
I just wanted to say I've been a fan of yours since the days of U.N.C.L.E. & have been a member of the David list for a short time. Hope you have a great birthday & enjoy the day with your family & friends.
Shere
---
Happy 70th Birthday! You are always giving us hopes and dreams.
We will never stop loving you, David.
Wishing you happiness, health and success for ever.
Robin KUSANO
---
Dear Mr McCallum.
I wanted to be a part of wishing you a most happy and healthy 70th Birthday.. You, who has brought so much joy to many lives in your acting and kindness to your fans, deserve nothing but the best..May God Bless you on this wonderful day, and bring you many more yrs of peace, happiness and love
Happy Birthday
Brianne
---
Happy Birthday
Have a great year and many more to come
Marlene Martin
---
Dear David
Birthday greetings from Dunoon, Scotland. Now you've reached your 'three score years and ten', everything is a wonderful bonus. I wish you and all your family health and happiness to enjoy it.
Best wishes,
Dinah
---
Best wishes for another wonderful year with all the great changes it will bring. We can't wait to see the new series and know you will make your character memorable. It's fantastic to be still wishing you a happy birthday after all these years of being a fan!
Gayland Williams
---
(clears throat nervously before bursting into song)
Go raibh tú sona inniu
Go raibh tú sona inniu
Go raibh tú sona a Dhaithi
Go raibh tú sona inniu!

Lá Breithe Sona!
Go dté tú an céad! ... Agus bliain chun aithrí!
[translations]
May you be happy today,
May you be happy today,
May you be happy David
May you be happy today.
Happy Birthday,
May you live to be a hundred...and a year for repentance!
David, you were one of the first actors who I remember wanting to watch on TV (Kidnapped/Invisible Man) and I've enjoyed many many hours of watching you since then. Happy birthday to you, and long may you continue.
Slainte
Ceindreadh
---
I developed a huge crush on Illya in 1984, then rediscovered you thanks to Ellen's site and have since kept track of your work. I am too far away to see you on stage, but someday I will be there with Ellen, lurking at the back door with my camera. If you ever need a new headshot, I would be honored to shoot it! -Ann B
---
Happy Birthday to a great man. I can think of a lot of people that I have gotten to know who have lived to 70, 80 but let me tell you - your strength; aurora; love for people; is from a man who lives his age. Jack Benny used to kid around about being a certain age but I think you prove it. Happy Birthday David and may you have many many, lots, lots more.
Love Darlene
---
Dear David,
Happy Birthday! Thank you for the wonderful variety of characters you've brought us over the years, from my vague memories of your early Playhouse and Wednesday Play appearances to the new NCIS (which I'm hoping will be on in England before too long). Have a lovely day.
Judy
---
Dear Mr. McCallum,
I hope you get whatever you wish for when you blow out the candles on the 19th! I can only wish for you what I wish every year- may you enjoy the good things in life for many more years, may no one ever find the portrait,and may your happiness reflect in some measure, the happiness your many talents have brought to the people who have seen your work !
With wishes for every good thing,
Jomil Mulvey
---
Dear. Mr. McCallum,
Hope you have a wonderful birthday for all the blessings you have been to so many people who have followed your career and work. May you continue to have a great life and the best of wishes to you and your lovely wife.
Mary Edmonds
Goshen, IN
---
Thank you for all the pretty memories. Happy birthday. May you have many more...Sherry Saunders
---
Many Happy Returns, Deep Joy, and thanks for all the fun.
Jess
---
I'm happy to tell you that congratulations on your special birthday.
And it's also great joy that I can see you on screen.
I wish a wonderful year for you.
Masako Imahashi
---
'Long may your lum reek'.
Ann
---
Happy Birthday wishes for you
You have always been our hunk
And made our hearts go thunk.
New escapades for Illya and UNCLE
Well written by Karen and the others.
We keep up on your acting career
And enjoy each and every role.
We're thrilled with Doctor Ducky
And hope to see him weekly.
My wish is for you to have the best of birthday's,
Health and happiness too,
So we continue to enjoy your gift to us
For many more years to come!
Many happy returns,
Mary Louise Malik
Racine, Wisconsin
---
---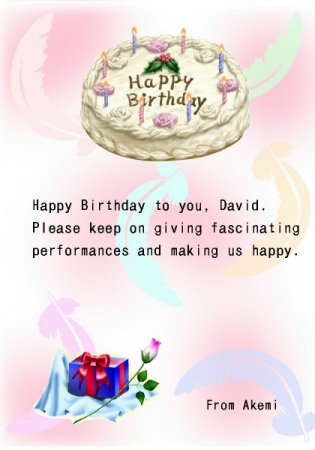 ---
Dear Mr McCallum,

I wanted to send you a special and original birthday greeting but I have no inspiration, so I settled for this.

I want to thank you for all the years of pleasure you have given me and all the fans, through your wonderful acting. I want to thank you for having agreed to meet me when I saw you in "Amadeus" a few years ago. It was a wonderful and unforgettable moment for me.

I wish you a very very happy birthday, full of all good things and the love of your family.

Thank you for being you and for everything.

Anushka
---
Dear Mr. McCallum,
Here's wishing you Joy and Happiness on your Birthday.

Best Regards,
Karen Gallagher/California
---
By this means, I would like to express my best wishes to David on his birthday !! This comes from an Illya fan in Buenos Aires, Argentina. I used to watch the UNCLE series during the sixties when I was younger.

so, happy birthday David!!!

Claudia Menghi
---
Happy 70th! I enjoy your work and look forward to seeing you on stage, screen & TV for many years to come.
Linda Z
Los Angeles
---
Dear Mr. McCallum,
I've been a fan since the UNCLE days and I'm very much looking forward to watching you on the new NCIS program. Thanks for all the great entertainment you've provided us with over the years. Happy Birthday!
Judith Covey
---
David, Thank you for so many years of viewing pleasure. Can't wait to see what you're doing next on NCIS! Happy Birthday, Marsha Garelick
---
Hope I am not to late. and even if I am, I want to tell David how he is appreciated and admired everywhere in Europe, not only in the english speaking countries; he is among my most cherished memories from my teen age years and influenced greatly some of my personnal tastes and choices; Thanks Mr Mc Callum!
Francoise.
---
I desire to he is fine forever and appear on TV or a movie. I am looking forward to the day when his new TV series can be seen. Yesterday, MFU's DVD arrived to me. It was very good. I will looking forward that can be seen with DVD. I am happy that his many works can be seen with DVD
---
Dear Mr. McCallum

The happiest of happy days...today and everyday. All the best...all the time... All ways and always

A sincere fan, Lillian
---
Happy birthday David,
I a long time fan and am looking forward to NCIS. Keep giving us memories!!!!!!!!!
Carolisa Ray\Lakewood Co.
---
Dear Mr. McCallum:
First of all - a most happy belated birthday! You're still gorgeous! I am very very glad to see you back on television in a regular series. I am watching the Premiere now and, so far, you haven't lost that great sense of humor!!

Your fan always, Jatona P Walker
---
Dear Mr. McCallum: You have been my favorite since 1964, and still to this day. God bless you always and I send my love. Stephanie
---
My girl friends and I dressed up as UNCLE agents way back in 1966 for a costume party. We were all smitten!

I regret I have not followed your career since those wild and crazy '60's but I did see a few things you did.

Anyway, have a happy and a healthy year and many more!

Isn't the Internet wonderful?

M. Jessie Barczak
a British Ex-Pat
Washington, DC (the home of THRUSH!)
---
Dear Mr. McCallum,

Two weeks ago I was watching a dvd a friend gave to me; I was looking for a scene where a patch of light hid behind a painting. It scared me witless when I was about nine years old. I found the scene, and I still found it quite scary. What I hadn't expected to find was a sf-series that would fascinate me so much that in the next two weeks I'd watch all 6 adventures...

Searching the internet for the man who made this unique performance, I started to feel sillier by the minute and with every UNCLE-website I came across. I seemed to belong to the tiny group of people who had never heard of Illya... Lucky me, I can still discover most of the work you've done.

From holland, a little bit too late, I still would like to wish you a very happy birthday and congratulate you on all your achievements.

With kind regards,
Anna
---
After all these years I still have to say, "Happy Birthday to Illya K.!"

Robin Cushman
---
I want to wish happy birthday to the man who is undoubtedly the MOST GORGEOUS BLOND that has ever graced this planet!
HAPPY BIRTHDAY, DAVID!!!

Your admirer always,
Shirley Pena