cult tv, March 1998 (An Audience with David McCallum)

MAN OF STEEL
David McCallum has twiddled pens as a Russian spy, vanished from sight as The Invisible Man, plotted escape from Colditz and probed intergalactic crimes as a carbon iron compound. Elkan Allan and Anthony Hayward rip off the latex mask to reveal the cult icon beneath.

"I know when I wake up in the morning that somebody will call me Illya Kuryakin," David McCallum states unequivocally from his delightful old Manhattan apartment. "It's just a matter of time. Today, it happened very early. (My wife) Katherine and I were in the gym just after six and an elderly gent in a jogging suit said, half jokingly, "Morning, Illya!"

Its not just Americans who recognize him, last summer while filming in Britain, McCallum noticed a mother and two children in the street pointing at him. As he passed by, the Mother said knowingly, "That's the man from UNCLE!" But the eldest child disagreed and announced that it was Steel- Sapphire and Steel!"

While the youngest simply waved and said, "You're both wrong--it's the Invisible man."

Most stars are accustomed to people pointing at and talking about them as if they weren't there, and McCallum is no exception. In fact, he's grateful to be remembered for more than just his role as the enigmatic Russian on the UNCLE team. "It's nice to be acknowledged, and I'm lucky to have been part of a show that was made back in the 60's and is still remembered with such affection," he admits. "Not all my fellow thespians have such good fortune."

McCallum's crisp British accent is unaffected after 35 years living in the US. He fields questions with a courtesy rare among contemporary stars and, while bemused at the success of UNCLE 30 years on, he has nothing but warm memories of the series.

"UNCLE was such a rewarding show to do," he recalls fondly. "Everybody associated with it treated each other with great respect - and we were all great friends. The scripts had so much humor in them and the tongue - in - cheek style was always a pleasure to perform.

"Americans were going through a terrible time with the Vietnam War, and UNCLE - as well as being intriguing and amusing each week - provided a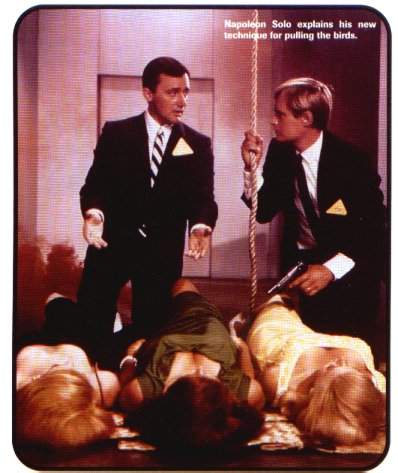 much needed release valve," McCallum continues. "Here was this secret organization that sounded as if it had something to do with the United Nations, but which employed this weird blond Russian agent who was not a bad guy but one of the team. The show poked much needed fun at the Cold War. It was just a fact of life that there was a television show with a Russian and an American working to solve the problems of international crime.

"As I remember, it wasn't an immediate hit but started very slowly, gradually picking up as the MGM publicity department sent Robert Vaughn and me across the country doing interviews and making public appearances. We were dispatched every week-end to a different city and, slowly but surely, the ratings rose. We clocked up almost 25,000 miles. And that was on our days off!"

Sex Symbolism

THE MAN FROM UNCLE made McCallum a sex symbol, but he vehemently denies that he was the product of any clever marketing.

"There was no attempt to create an image," he insists. "You get a script and a part, then you perform the part and what comes out is the image. That image was a product of everything that I, the writers and directors did."

It was the swinging 60's - the Beatles were riding high in the record charts and spearheading a youth revolution. But McCallum, whose father was first violinist, then concertmaster of the London Philharmonic and whose Mother played the cello, had been groomed to follow their more traditional musical footsteps.

"I was supposed to grow up to be a musician - I conscientiously learned the oboe and went to the Royal Academy of music, but I couldn't stick it and left after one term to go to RADA," he recalls.

Not Just A Pretty Russian

David McCallum isn't kidding when he says his resume goes beyond Russian spies, vanishing scientists and iron compounds. Here' just a small section from his CV:
The Outer Limits


McCallum has the distinction of appearing in both the classic and the new incarnations of The Outer Limits. He most recently cropped up in 'The Feasibility Study', playing on of a group of humans abducted by a strange alien force.
Kidnapped
Between The Invisible Man and Sapphire and Steel, McCallum played Alan Breck in an impressive 13-part ITV adaptation of Robert Louis Stevenson's Kidnapped.
The A-Team
McCallum was reunited with old cohort Robert Vaughn for the episode 'The Say Uncle Affair', playing a Russian called Ivan. Hmmmm, sounds familiar.

VR.5
Another little-seen fantasy TV role McCallum played was Dr. Joseph Bloom in the American SF series VR.5 which lasted for just 13 episodes. Lori Singer starred as his daughter Sydney Bloom, whose telephone and modem enabled her to enter into the human mind and use virtual reality. McCallum joined in the middle of the series. "They wanted me to do a story about the leading lady's family, which had happened before the actual stories were going on," he explains. "It was all done in flashback. The character I played for half-a-dozen of the 12 episodes was to emerge much stronger in the second series, but that never came about. It was very frustrating to create something that never got off the ground."
Babylon 5


In 1994, McCallum played Dr. Vance Hendricks, an archaeologist who smuggles ancient artifacts onto Babylon 5 and unleashes a living weapon in the process. He remembers little about the experience of working on the SF epic, however. "Babylon 5, Star Trek and all these shows that take place in some future environment tend to be in futuristic, small sets and you never get out of them," he says. "I did the whole thing in a very small set with grey walls. I couldn't tell you anything about it. It's completely forgotten now."
Other Notable TV Guest Appearances
McCallum has made guest appearances in hit shows on both sides of the Atlantic, in series such as The Six Million Dollar Man, Boon, Murder, She Wrote, seaQuest, DSV, Heartbeat and Law and Order. One of McCallum's most dramatic TV roles was as orchestra conductor Alex Vesey, Diana Rigg's former husband, in the BBC drama Mother Love. he was also in The Man Who Lived At the Ritz, played John Grey in both series of Trainer and took the part of Professor Plum in the ITV whodunit quiz Cluedo, opposite Rula Lenska and Richard Wilson.
On Stage
McCallum was less successful on stage as Lewis Carroll in Mike Batt's doomed 1991 London West End musical The Hunting of the Snark, although he returned three years later to perform on stage in the historical drama The Lion in Winter.


Rock' n Roll Swindle

After he hit the big time, some saw the potential to market McCallum as a pop singer. The result was a string of LP's - but not of the type the marketing types envisaged.

"The albums came out of various people's desires - not mine- to make money out of the success of Man from UNCLE," he recalls. "They asked me to sing on albums and I said, I don't sing, but I've written orchestrations and I can conduct an orchestra." They said, 'oh good, let's do that.' They put me with HB Barnum, who was then a very successful arranger. I came up with the orchestrations and that's how the albums came about'

As well as several LP's McCallum recorded a single entitled communication,' which reached number 32 in the British carts in 1966.

"It was a spoken vocal, a complete send-up of the Shangri-Las' 'Leader of the pack," the star says with a grin. "In those days, I found the whole idea of me singing as a rock star such a ludicrous idea that what I did was to sit down and write a song and then speak things. My voice now is much better than it was and I have trained to sing- and have sung on stage- so I wouldn't find it such a problem. I've never lost my love for music and still accompany Mozart records on the oboe and lose myself in the Wagner - often in the bath.

The Secret of His Success

The role of Illya Kuryakin has kept McCallum on television screens - thanks to endless repeats - long after its cancellation. The actor refuses to be drawn when asked about any similarities between himself and Kuryakin, however.

"That's an irrelevant question, really," he says dismissively. "He was Russian and he was working for UNCLE. I wasn't - I was working for NBC and MGM. My appearance and my voice were the same and a great amount of my personality came through, but apart from that it was what the writers wrote in the script. I don't go around karate-chopping people!"

"My character was kept deliberately vague and I took out a few specifics that crept into the scripts," he continues, "As a result, nobody knew who Illya was or where he came from, whether he was married or a wild bachelor. It gave wide scope for invention, as the character could do or be anything the stories called for."

With James Bond and the series such as The Avengers riding high in the popularity stakes, gadgets were an important part of any spy series. Unsurprisingly, The Man from Uncle was full of them - radio - receiver pens, a special pistol that could be converted into a machine gun and a two-seat Piranha sports coupe with rocket launchers and machine guns. Despite appealing to the fans of the series, however, they trigger no special memories for McCallum.

"The pen, the gun and all the attachments to the gun became everyday objects to me," he shrugs. "The props man would hand gadgets to me and I would use them just like I would use a telephone or a pen in any other show."

Schmoozing with the Stars

One of the thrills of working on The Man from UNCLE for McCallum was acting with big name guest stars such as Vincent Price, Boris Karloff, Joan Collins, Cher, Angela Lansbury and Janet Leigh. In one 1964 episode, 'The Project Strigas Affair,' both William Shatner and Leonard Nimoy appeared together for the first time, two years before teaming up in Star Trek.

"In those days, I was a little less worldly than I am now," McCallum recalls. "Having been brought up watching all these people at the cinema, suddenly to be working with them was an awesome thrill. Acting with Joan Crawford, Elsa Lanchester, George Sanders, and all the people from the Old Warner Brothers gangster studios who worked with George Raft and Humphrey Bogart, was extraordinary. It would be a very interesting exercise to go on the internet, look up The Man from UNCLE and make a list of all those who were on the show.

The Bye-Bye UNCLE Affair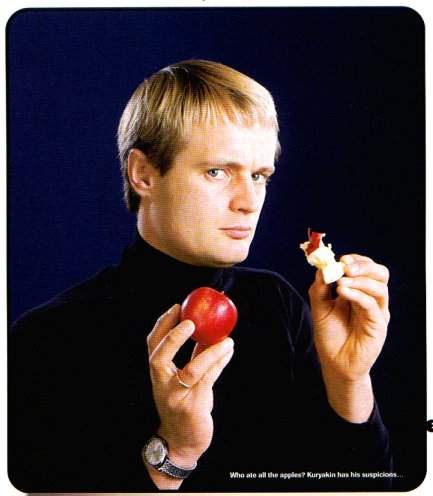 During its fourth season, The UNCLE scripts always arrived at McCallum's Santa Monica apartment at the last minute. Then, one day the messenger didn't turn up. McCallum assumed the writers were having a problem with the storyline and that the pages would eventually appear. Three days later, he picked up the Los Angeles Times to read that The Man from UNCLE had been cancelled. No call. No letter, No nothing.

"We did over 100 episodes in three-and-a-half years but then came off, as there are only so many ways you can save the world in a one-hour format," he shrugs. "And, in the last months there was an attempt to give it a zany quality that pushed the tongue right through the proverbial cheek. I preferred the earlier concept, when we kept as close to reality as the plots allowed.

After the original series ended, offers to play Russian spies came in by the bucket load, but McCallum was ready to get out of Hollywood and episodic television. After his divorce in 1967 from actress Jill Ireland, he moved to New York City with his new wife Katherine Carpenter and has lived there ever since, commuting to Los Angeles only when the job required it.

Of course, McCallum did return briefly to the role of Illya Kuryakin in 1983 TV movie Return of the Man from UNCLE: The fifteen years later affair. When asked about the possibility or a thirty revival, McCallum says that the latest craze is for a big-budget film. Writer-director Quentin Tarantino has been linked with the project but, even with him aboard, the actor is skeptical - feeling the UNCLE concept is firmly linked to the days of the Cold War.

One thing's for certain, should McCallum agree to reprise his role as Kuryakin, it won't be because he's struggling to make a living following his UNCLE days, indeed, the actor has been in more tan a hundred television and film productions.

Invisibility Sucks

He may never have had to consider returning to old haunts to keep the wolf from the door, but McCallum is still best remembered for his cult roles in the likes of UNCLE, Sapphire and Steel and The Invisible Man. When reminded of his portrayal of a scientist who accidentally makes himself invisible, McCallum gives a little sigh.

"It was another challenging and wonderful show to do, but I had a slight problem that I never really understood until it was over," he says of his experience. "The Original plot was about a man who achieved invisibility but was desperate to get back to normal. The bad guys were chasing him to learn the secret and use it to do dirty deeds. A little like The Fugitive in concept and certainly along the lines of the HG Wells novel.

"But somewhere the concept took a comic turn and no-one elected to tell me," McCallum explains. "I was playing desperation and they were writing funny situations. But it all worked out in the end and I had a ball carrying my own head around in blue screen!"

Bit of politics
Escaping Colditz

"Colditz was a series of stories about a castle in Germany that was used to house the most troublesome Prisoners-of-War in World War Two," McCallum explains. "Every one of the prisoners had escaped from some other camp and been recaptured. So, in a lot of ways, they were just asking for trouble packing them all in one place. To me, it was always much more than an adventure story -- it was a testament to courage and determination in the face of overwhelming odds. The fact that nobody ever escaped from Colditz -- and it was a fact -- made the unrelenting attempts to do so a quixotic and remarkable enterprise.

"Although Colditz was the BBC's most popular drama of its day -- attracting bigger audiences than The Forsythe Saga, whose repeat screenings had previously held the record -- the series never played in America, to my eternal chagrin," he says of the drama in which he starred as a young RAF officer opposite Robert Wagner.

"Out of the two years we put on film, they extracted just two hours -- less commercials -- and they even betrayed that. When Robert Wagner got clear away and lived happily ever after, it just made a mockery of the series and the real facts," he grumbles. "What came back to me was that Sid Sheinberg, head of Universal, watched a couple of BBC episodes with his children and pronounced them 'too classy.'"

McCallum rolls his eyes and sighs: "Classiness, it seems, is not what American TV is about."
So how did the Glaswegian-born actor end up living and working in the US? Unlike other Brits seeking their fortune on the other side of the Atlantic, McCallum's original reason for upping the sticks and moving to America was political.

"I moved to the States because there was a socialist government in England," he says candidly. "I just don't like socialism. I believe in hard work and I believe that people should keep the money they earn. There was a system in the UK in those days where you taxed successful people. I didn't like that idea. I prefer a country where there's a more right-wing government. That's how I felt in those days and I haven't changed all that much.

"But you can't compare the 60s to the 90s," he adds. "Things have changed completely. In America, we have a left-wing President who keeps taking all the programmes of the right wing government and calling them his own - he's very clever. And you in England have a centrist in Mr. Blair who does not really espouse the extreme left-wing policies that they were bandying around back in the 60s."

A Scotsman in New York

McCallum has never experienced any problems being a Brit abroad, although making money in his adopted home wasn't easy at first.

"In my early days in America, nobody knew who I was and I had absolutely no recognition factor whatsoever in spite of having done many years of theatre, film and television in the United Kingdom," he recalls. "It was a matter of working hard, going for auditions and, every time you got something, you tried to get people to watch it because there wasn't tape in those days - you couldn't have a reel of all your work. I've always pushed and tried to do the best job I can. Your reputation and the way you are as an actor either appeal to the people or it doesn't. I was fortunate enough to do enough work that eventually let to The Man from UNCLE.

"Now, after 30 years of living in New York I'm treated as a New Yorker," he continues. "People assume I'm part of the woodwork here. For Many years, I seemed to work everywhere in the world except New York. Recently, I did a Law and Order right here in the city. What a change to be able to walk home after a day's shooting!"

1997 is a good case in point. McCallum filmed in New York, Vancouver, Chicago and Cornwall. The last location was for Coming Home, in which he plays a retired Army Major with a perverse interest in very young girls. The production reunited him Joanna Lumley his co-star in Sapphire and Steel

"She is a very special and talented person in so many ways," he says, "I wish we lived closer together so we could see each other more often."

Asked if McCallum is surprised at her success as a comedy actress in Absolutely Fabulous, he answers emphatically: "Absolutely Not! Joanna could blossom into anything she wanted."

Gems and Minerals

We glided around as Sapphire and Steel back around 1980," he says of the ITC show. "A fascinating idea, possibly a bit ahead of its time. We were cops from outer space that kept watch over the fabric of time. Anyone moving from one side to the other was promptly returned so that everything could be kept in chronological order. In one programme, for instance, all those soldiers who were killed after the Armistice was signed in 1918 got together and their collective anger pushed them back through to human time on earth. We were dispatched to send them all back.

McCallum is more than happy to admit to an interest in the genre that inspired Sapphire and Steel.

"I find the whole concept of cosmology and science fiction fascinating," he says. "I'm constantly aware how scientists keep discovering that the universe is getting bigger. They never seem to get it right.

"It's ridiculous to think that we are the only reasoning creatures in the universe - but, then, I don't think our powers of reasoning are particularly sophisticated, and we are an exceedingly immodest species. I find it hard to accept the notion that the all-knowing, all-powerful God chose us as the best he could find in all those zillions of galaxies."

(The Man from UNCLE films are periodically shown on TNT. Coming Home is due to be screened on ITV in April. Videos of The Man from UNCLE and Sapphire and Steel are also available.)