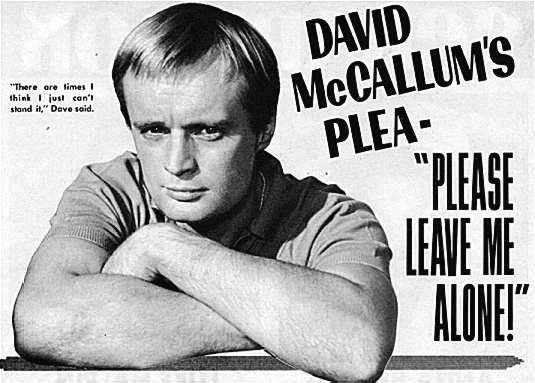 You'll be dazzled by this request David has. It's a most unusual one for a star to make of his fans. Listen hard!
"I'M REALLY thrilled beyond words with the reception I've gotten in the States," David told us on one of his visits to New York. "But if I don't get a little privacy soon, I think I'll scream!"
What could be happening to this sensitive Scotchman who comes into the homes of thirty million Americans every week to make him say this? The answer is---PLENTY!
When David first came tot he United States to play Judas in the "The Greatest Story Ever Told," he didn't expect to be picked for the part of the "other" man from U.N.C.L.E., Illya Kuryakin. But as a result, he's become one of the biggest stars around. But right now, he's at his wit's end---
"I don't keep it a secret that I'm married," David said, "to a beautiful girl named Jill. And I have three children. But my being a family man doesn't seem to have discouraged thousands of teenagers."
Just in case you think David's exaggerating, listen to these typical experiences he's been having---
*Since he started "The Man From U.N.C.L.E." he can't leave his house from the front gate. There's always a group of girls waiting to "get him."
*If the girls get to him before he gets to a car, they usually all try to kiss him.
*When his wife is with him, the girls often ask for her for permission. "Funny," David added, "but they never ask me! It would be a good idea once in a while."
*While he was in New York with Robert Vaughn to pose for some fashion pictures with some top models, he almost didn't get to take one. Every time he came out of the bus that carried the cameras and models, he'd be mobbed. Finally, it was decided to use some U.N.C.L.E. tactics. Curtains were hung over the bus windows so no one could look in. The schedules were changed. Every picture was "staged" by the cameraman and the models before he came out of the bus. Then he's jump into position, take the picture and jump back into the bus before the girls could see him. No wonder he's tired!
*When he was in Louisiana, the governor invited him to dinner. But their visit was interrupted when some girls were found trying to break into the mansion!
*And at the Texas City airport, there were so many girls waiting for him that Jill really got stuck! She was handed a bouquet of roses, but when the fans mobbed David, she got pushed against a wall and all the thorns went straight into her!
We could go on forever with these stories, but they all add up to one thing. David McCallum loves his fans. He loves his work. But also loves his family--and his peace of mind. And that's why he's asking you just to give him a little privacy--so he can get up enough strength to make more TV shows, more movies, and more public appearances! Okay? Okay!