Life Magazine 29th April, 1966 p.45/46
Television/David McCallum's Return to Scotland
Illya Goes Home to the Heather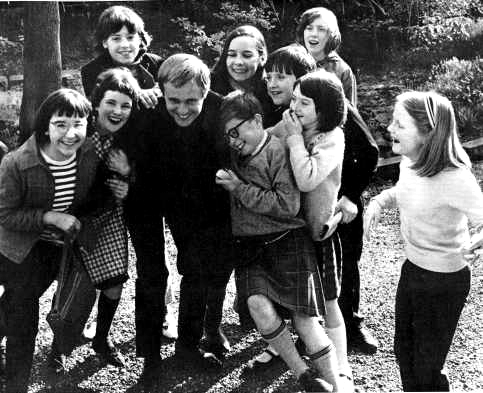 Three years ago an obscure young Scottish-born actor, David McCallum, left Britain to try Hollywood. No-one noticed the exit - "I practically crept out in the dead of night carrying my own suitcase." This month he returned for the first time, less renowned as a native son than as Illya Kuryakin, co-star of The Man from U.N.C.L.E., even bigger on British television than in the U.S. In London to star in a film, Three Bites of the Apple, McCallum slipped away from swarms of teen-agers to spend a few days in the quiet land of the heather where he had grown up. In villages such as Kilsyth he found that relatives had been following him on the telly, proudly but with misgivings. "I'm sure they thought I had to be living a life of some depravity," says McCallum. Like many a returning native son, he was curious to see if the tug of ancestral ties might make him long to stay. "The answer is no, " he says. "I'm afraid I've become very Californian."

McCallum swings across Dochart River where he played as a child.
His parents, who had moved to London, sent him to relatives during the blitz.

In Kilsyth, McCallum drops in on Annie Hosie -
"my paternal grandfather's brother's sister-in-law"
- who says, "Stay here; I'll fatten you up."
| | |
| --- | --- |
| Man from U.N.C.L.E. orders a pint from his real uncle, John Abercrombie (left), as relatives and friends pass an hour at a Cambuskenneth pub.Man from U.N.C.L.E. orders a pint from his real uncle, John Abercrombie (left), as relatives and friends pass an hour at a Cambuskenneth pub. | In the butcher shop, as McCallum helps cut up a roast, an elderly U.N.C.L.E. fan (left) squeals with delight, "My lord, it's Illyoo!" she said. |