News of the World
by Patrick Hill
I WANNA BE RITZ!
AT first no one recognizes the blond man with the boyish looks as he queues with the crowds for his lottery ticket.
Each clutches a dollar -- a small price to pay for winning a million. And it's only when the dreamers walk away, puzzling where they've seen that face before, that the penny drops.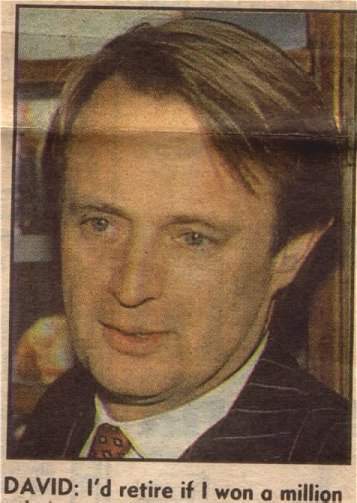 "Wasn't that Ilya Kuryakin? Of course! The Man From UNCLE."
Sixties heart-throb David McCallum, who stars tonight in The Man Who Lived At The Ritz (ITV, 9:05 pm), lines up every week with fellow New Yorkers to try for the city's richest prize.
The he drives home to his luxury Manhattan apartment hoping he has the winning number in his pocket.
"I wouldn't say I needed the money desperately," says David.
Help
"But I think about winning the big one every week. If I did I'd pay up all my bills and retire from acting.
"It's worth a buck a week, especially when you're driving home late at night thinking things aren't going very well.
In tonight's drama, David stars alongside American actor Perry King, Bond girl Maryann d'Abo, Manageress beauty Cherie Lunghi and veteran Joss Ackland.
It tells the story of an American playboy living in the Ritz Hotel in Paris who becomes a Resistance hero.
In the past five years David has worked in Britain on TV dramas such as the acclaimed Mother Love, with Diana Rigg.
Next month he appears as an aristocratic punter in the BBC's new 4 million pound horse racing epic Trainer.
But he has no desire to quit New York, where he lives with his wife, interior designer Catherine, 46, and their children Sophie, 16, and Peter, 21.
David, whose marriage to the late Jill Ireland ended in divorce in 1967, says "Catherine has her own business in New York, and I don't encourage her to come over when I'm working in Britain.
Choice
"We're a very close family and I love her dearly. But she is a very busy lady and work is important to all of us."
David rejects attempts to persuade him to revive his role in The Man From UNCLE.
"Bringing UNCLE back is suggested all the time, but I think it's a ridiculous idea," he says. "It would be a case of geriatrics running around on screen.
"I'm grateful for the success I had through the series, but I've moved on from there."
Now, he says, he likes being able to choose his acting jobs...until that jackpot comes up!