U.K. magazine TV Quick dated 23-29 Nov. 1991.
I'd hate to live like Madonna
With the Man From U.N.C.L.E. back on the box in a BBC2 re-run, we'll get another chance to drool over the delicious Illya Kuryakin. But David McCallum won't be wallowing in the limelight – unlike his neighbour Madonna, he says fame leaves him cold.
Looking out of his apartment over New York's Central Park, David McCallum knows his view is shared by Madonna, who resides in a penthouse suite directly opposite.
McCallum was a name when Madonna was playing with her Sindy dolls, and nothing that the rock queen does now impresses him.
'I've never had time for celebrity lifestyles, and the way Madonna lives, as talented as she is, leaves me cold,' says David, with a gentle Scottish lilt virtually untouched by more than 20 years of living in America.
For 40 of his 58 years, David has grafted for stardom, from stage management to roles in Hollywood hits such as The Great Escape and The Long and The Short And The Tall.
But he is still best known as the devilishly clever and handsome Illya Kuryakin in the cult Sixties series The Man From U.N.C.L.E., now back in a re-run on British TV. His current role, of course is as gambler John Grey in BBC1's Trainer.
Madonna, in total contrast, was an overnight sensation, who earns more in a year than David will earn in a lifetime. But jealousy is not a failing. His objection to the Madonna generation of mega-stars has more to do with their lack of respect for the family.
'I believe the family unit is the bedrock of life, particularly in show business. People often don't consider marriage, which is a pity, and when people in the entertainment world do get married, the majority break up through lack of effort.'
David's been married to American Katherine Carpenter for more than 20 years and they have two children: Peter, 21, and Sophie, 16.
'It's not and never has been a showbiz marriage. My wife finds the whole business of making films dull,' says David. 'Our relationship is based on respect and making the effort to understand one another.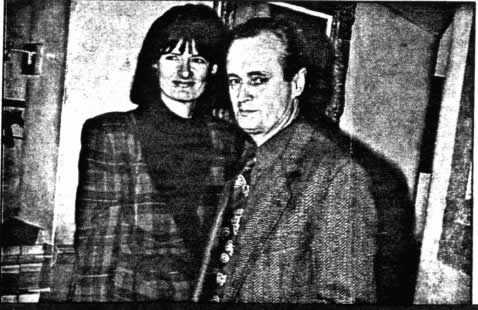 with his wife Katherine. 'Ours is not a showbiz marriage.'
'The longest we've been apart is nine weeks. I have been happy to live in New York, because Katherine is based here. Why should she drop her career [as an interior designer] just to follow me around?'
David's children are his pride, and when he hears: 'Wish you were here, Dad' over the phone, he says the hotel blues disappear.
'Not that we're soft on them. They've always had jobs in the holidays to earn their own money.'
David's first wife was the beautiful screen actress, Jill Ireland. When they were divorced in 1967, he found separation from his first children – Val and Paul – very difficult. Their third, adopted son, Jason, died of a drug overdose in 1989.
Jill, who married tough guy film star Charles Bronson, died of cancer earlier this year, after a long battle against the disease. David attended the funeral and says: 'All the ghosts have now been laid to rest.'
It was once said David's tough workload was the sign of a man burying himself in his career. For TV, he also starred in Colditz, The Invisible Man and Murder, She Wrote, and films such as Billy Budd, The Watcher in the Woods and Mosquito Squadron. But he insists: 'Work has not been a cure for anything. I take on these different roles because I love acting. I'm paid to do something I adore.'
One role he has consistently refused 'almost every month' for two decades is…Illya Kuryakin.
David's clear blue eyes narrow and he can't hide his sense of exasperation when he says: 'I've lost count of the number of producers who have wanted to revive the series.
'But I always say no. The Man From U.N.C.L.E. was good for its time, but that time has gone. It's a period piece and it's still shown almost continually by TV stations around the world.
'You see, the secret of a long career is to do lots of different things, not repeat the same old roles.'
Barry Baker