Material from MGM for The Man From UNCLE to promote the 1966-67 season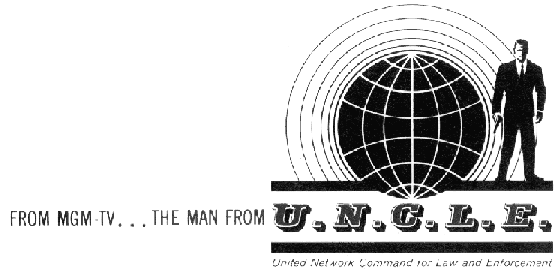 IN WHICH DAVID (ILLYA) McCALLUM UPHOLDS THIS GENERATION OF NON-CONFORMIST YOUTH
When the publicity man for a recently-opened Peruvian airline ran a poll in Lima to determine which Hollywood personalities the local citizenry would most like to have included on an inaugural press junket, the name hading the list was that of David McCallum
The reason for the McCallum cult among the Peruvians is a simple one. There, as in more than 30 other countries around the globe, "The Man From U.N.C.L.E." is one of the most-viewed television features week after week; one of the major attractions for the dialers is the quiet, magnetic, charm of Illya Kuryakin.
Since he created the character three years ago, David's popularity has been skyrocketing, paralleling that of the show. When he landed in London last spring on his way to Europe for filming of his feature, "Three Bites of the Apple," he was mobbed by such cheering throngs of teenagers that police there were rendered almost helpless. The same pattern has been repeated on his appearances throughout the United States.
McCallum fans, however, are not limited to the younger set. Norman Felton, executive producer of the "U.N.C.L.E." series states: "The simple assumption would be that David's fans are the teenagers who see in him the out-of-the-ordinary, far from run-of-the-mill character they themselves would like to be, while Bob Vaughn is a favorite of older viewers. But it's not that simple. I've been in some very sophisticated social gatherings and inevitably two or three of the elegantly mannered, smartly-dressed women will get a highly romantic look in their eyes as they ask, "What is David McCallum really like?"
David is most grateful for his teenage following and he readily admits they have made him very much aware of the problems young people face in the today's world.
"To begin with," he says with sincerity, "we must stop grouping them as 'teenagers.' For the most part, they are exceptionally aware young people, trying desperately to find their identity as individuals in a world run by their parents -- a world of which they don't really approve and, consequently, don't understand. Perhaps it's partly because Illya also doesn't conform to convention that they accept him and me as one of them."
David paused a moment, with that slight grin that has become so familiar to fans of "The Man From U.N.C.L.E."
"Young people today seem to see clearly the principles by which the world should run. You might say there have been many generations with this insight but they have been unable to do anything about it. However, I sincerely feel this is the generation that will do something about it. Everywhere today we read of a constant struggle for individual expression...in clothes, hair styles, in various protests. All of these are signs of self assertion.
"The world-wide exposure of 'The Man From U.N.C.L.E.' is ample evidence of the fact that we are communicating on an international level. Perhaps in time this burgeoning ability to understand each other will lead to these younger people uniting."
"Wouldn't it be a shame," he added, and this time there was no smile on the McCallum countenance, "if their parents didn't leave them a world in which to express themselves?"
At that moment, David was called back to the set and a few seconds later was rehearsing a sequence which had Illya shooting it out with THRUSH agents.
"Bang! Bang!" he shouted, saving the prop man's blank cartridges.
"Hold it a minute David," called the director. "In this shot you're supposed to be backing up."
"Oh," said Illya Kuryakin. "In that case, Gnab! Gnab!"