promotional material from MGM for The Man From UNCLE for the 1966-67 season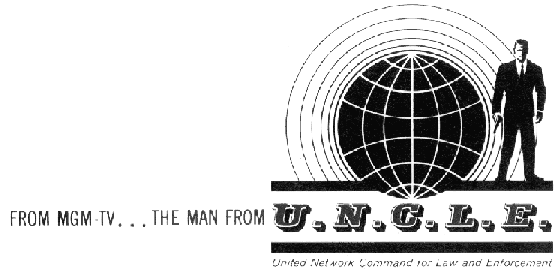 DAVID McCALLUM
The spectacular success of David McCallum -- which on first appearances came with overnight suddenness -- is one that actually has been soundly based on 20 years of dedicated, constant drive to become an accomplished performer.
The young Scot today is both idolized as one of the entertainment world's most exciting personalities and respected as one of its most creative artists. Following his remarkable conquest as a star of an American television series, he has become established as a motion picture star of first magnitude and as a musician of unique talents.
But, the story of his success began with his first professional appearance as a boy actor on a radio program presented November, 1946, by the BBC in London.
In the intervening two decades, David McCallum has devoted himself to thorough training in his craft. It has been a persistent pursuit that brought both hardship and reward, through periods of study and development in the Royal Academy of Dramatic Art in London, in repertory and touring the British provinces, in English motion pictures, and then as an electrifying "discovery" in U.S. television.
The most significant reward came when producer Norman Felton, recognizing his extraordinary potential, cast him as Illya Kuryakin in "The Man From U.N.C.L.E." Public response to the MGM-TV series, now in its third year on the NBC Television Network, cause Illya Kuryakin, and then David McCallum, to become household bywords. A steadily increasing fan mail, currently averaging more than 32,000 letters a month, serves as testimony to his extreme popularity.
On appearances in San Francisco and Dallas, and then in a dozen other cities across the United States and Europe, he has been swarmed by worshipping fans. The extent of the crowds often has been physically overwhelming; the ardor of their enthusiasm has been reported at times as unprecedented.
Look magazine reported him to be: "A new kind of TV idol...intelligent, likable, talented"...and, "...a delirium inspiring, coast-to-coast sex symbol."
McCallum's response to this was, "Good Lord! Think of that -- a sexy Scot!"
In a life invaded in every way by his fans and the press, his wry sense of humor inevitably stands him in good stead.
He personally supervises handling of all his fan mail, though it is physically impossible to answer each letter himself -- something he genuinely regrets. Deeply conscious of his responsibility to his fans and to the demands of his career, McCallum nevertheless tried to keep, as he says, "five percent of my life" strictly to himself.
In the two years that "U.N.C.L.E." has been on television, David McCallum has been nominated twice for the Emmy Award for the year's outstanding Performance by an Actor. He has won numerous other honors and is sought to lead parades, pick beauty queens, dedicate highways and hospitals, meet college presidents. He has even been a guest at the White House.
Success also has brought him the opportunity to prove his exceptional talents in other entertainment media. Prior to starting his third year paired with Robert Vaughn in "U.N.C.L.E.," he completed his top-starring role in the MGM feature release, "Three Bites of the Apple." It is a romantic comedy in which McCallum's performance has proved of such interesting contrast to his role as Illya Kuryakin that MGM already is planning his next motion picture. It is expected to be produced in the spring of 1967 as one of the studio's most important future films.
He also has recorded two albums for Capitol Records, "Music -- A Part of Me" and "Music -- a Bit More of Me," in which he has displayed outstanding and previously unsuspected skill as a conductor and composer.
His artistry in this field was further displayed when he composed the score for his picture, "Three Bites of the Apple," and also wrote the music for its principal theme song, "In the Garden, Under the Tree," for which Paul Francis Webster penned the lyrics.
Music definitely is a part of McCallum, and not surprisingly so for the young man who was born on a Sept. 19 in Glasgow, Scotland. he is the second son of David McCallum, leading violinist of the Royal Philharmonic Orchestra, and Dorothy McCallum, a cellist. His parents met in the orchestra pit of a theatre where they played for silent movies. His brother Ian, four years older, is with the British Council stationed in Ghana.
His father wanted David to become an oboe player, so, as a child, he studied the instrument at the Royal Academy of Music. At 14, he began working in a British theatre as an electrician, and continued to watch, learn and do virtually every job in the theatre.
He was educated at University College School in London, where the headmaster constantly called his parents to complain about the student's extra curricular activities. While at school, he was a frequent performer with three local amateur dramatic societies. After his schooling, and his start as a child actor on the BBC radio program, he studied for two years at The Royal Academy of Dramatic Art.
Leaving the Academy in 1951, he became property master with the famed Glyndebourne Opera Company. In the same year, he was drafted into the British Army and served as a lieutenant in the Royal West Africa Frontier Force. He was stationed in Ghana and on the Gold Coast for some ten months.
Leaving the Army in 1953, he resumed his theatrical training. First as stage manager and electrician and then as an actor, he began a series of engagements with many of the repertory companies in England and Scotland. At one theatre, he stage-managed and performed in 52 plays in the same number of weeks. He attributes most of his learning to these years and to the first two years of the weekly "The Man From U.N.C.L.E." series.
"When you are continually under pressure, you have a tremendous chance to study yourself and your work," he says. "Television gives you the added opportunity to take a look at your performance afterwards, and then you can improve what you don't like the next time around."
To David McCallum, the man and the actor are indivisible. Thus, his pursuit of a career as an accomplished performer also has been a search for personal awareness, without which he feels an actor cannot truly interpret another character.
After repertory had added vastly to his experience, the young actor was placed under contract by J. Arthur Rank, leading British motion picture producer, in 1957. Featured film roles followed in "The Secret Place," "Robbery Under Arms," "A Night to Remember," "Hell Drivers," "The Long and the Short and the Tall" and "Billy Budd." Before coming to America, he also appeared in "Freud" and "The Great Escape."
It was to play Judas in George Stevens' "The Greatest Story Ever Told," that he arrived in Hollywood. He remained for several guest TV appearances, most notably "The Outer Limits," before being signed for "The Man From U.N.C.L.E."
At first, his role as Illya was expected to be of quite secondary importance in the series. But, it quickly skyrocketed in significance -- aided considerably by McCallum's creative contributions to the character.
He is in constant demand for feature pictures and guest star TV appearances. Prior to "Three Bites of the Apple," he starred in the feature picture "Around the World Under the Sea," and made appearances on "The Andy Williams Show," "Carol Channing Special," and "Hullabaloo" and he narrated the voice of Beethoven in "The Saga of Western Man," all in the limited time permitted by his schedule on "The Man From U.N.C.L.E."
McCallum also has done considerable writing. He finds that putting words on paper gives him a clarity of thought and is a form of therapy in his busy life. One day, he says, he will write and direct a motion picture. But ONLY, he adds, when his is satisfied as an actor. he considers that day still a long way off.
He is an avid reader, particularly of novels and works on social behavior. He likes fishing, skin-diving and photography. His close friends divulge that he is an accomplished cook and enjoys fine imported wines.
He admits that he was somewhat introverted when he came to America but feels that he has changed in this respect. He is known as warm, open and gregarious. On occasions, however, he is maddeningly absent-minded both to his friends and to himself.
Off-screen, he dresses casually in corduroys and sweater and nearly always goes barefooted.
In 1957, David McCallum was married to British actress Jill Ireland. They began divorce proceedings in July, 1966.
He is sure that the current age in which his three sons are growing up "is probably the most adventurous and exciting in world history." He adds, however, the hope that "we have the sense to stop playing games with each other and start living."
Another of David McCallum's hopes is that soon a universal language will be taught in schools throughout the world. "Thus, in one generation, there would be total verbal communication," he says.
"The principles of love and good neighborliness are of great value in keeping peace between both individuals and nations. To meet together and talk, sing and dance and laugh -- all these are important.
"Man always has been an inquisitive animal and has asked himself why, what and wherefore, at every turn of his complex evolution. This is truer today than ever, with our young people more and more aware of progressive ideas.
"Thus I have faith -- in man and in his, as-yet barely realized, potential."