From Hello Magazine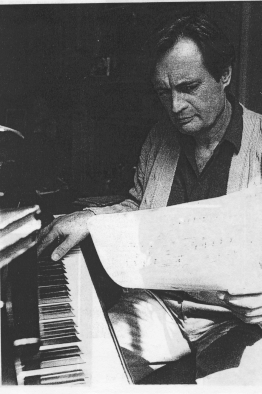 DAVID McCALLUM
Realisation of a lifelong dream for the actor who alwasy wanted to conduct an orchestra
by Marina Shamoon
His role in The Man From UNCLE turned actor David McCallum into a Sixties sex symbol overnight. As secret agent Illya Kuryakin, the blond enigmatic half of the duo in the comic Bond spin-off TV series, he was every girl's pin-up.
A crowd of 2,000 American college girls once threatened to blow up the UNCLE studios after David kissed his female lead in an episode. Hysterical teenagers chased him in the streets, even wrecking stores to reach the SPECTRE-busting star.
There was pandemonium when he married the interior designer Katherine Carpenter in Nwe York in 1967, and extra police had to be drafted in to keep fans at bay.
Today, David, who made the wearing of turtleneck sweaters fashionable, is a happy family man and refers to the old adulation as his "other life."
But ironically, obsessive love of a far more destructive nature is the dark force behind his latest return to the small screen.
In BBC's powerful four-part drama Mother Love, currently being screened, David stars alongside former Avengers action girl Diana Rigg. David plays Alex Vesey, a world-famous conductor whose ex-wife Helena, played by Diana Rigg, harbours an obsessive love towards their son Kit -- James Wilby.
The plot revolves around the disturbed Helena, lonely and embittered after the break-up of her marriage to Alex, who lavishes all her love on her son Kit, and directs all her venom towards Alex.
Constantly discrediting him in front of Kit, she even forbids Kit to have any contact with his father. But despite his mother's venomous control, the two manage to secretly build up a strong relationship.
In real life, David is also no unfamiliar with the trauma of family upheaval. He was shattered when his 10-year marriage to first wife actress Jill Ireland ended in divorce more than 20 years ago and he was parted from their three sons, Paul, now 31, Valentine, 27 and Jason, 26.
The bittersweet memories were rekindled as David talked about his latest TV role. As he explained: "When you lose control over your children, you just get very sad that they are not there.
"Sadly that is what happens when you get divorced. You lose your children and you do everything you can to hang on to them. But you soon realise that that is a mistake, so you let go and they come back in the end. And they all came back, years and years ago.
"But that is all in the past. I have a very good relationship with them now and all the communication channels are wide open. As I've said before, parenting is about listening, being there and being available for your children to talk to you. You don't necessarily have to give advice."
It is a motto David has been able to practice with his two children from his second marriage, Peter, 19, and Sophie, 15.
And David's very harmonious relationship with ex-wife Jill is far removed from that of Alex and Helena in Mother Love. Any rift from when Jill divorced him and married movie tough guy Charles Bronson has long since been healed. They are on such good terms that he and Charles often play golf together.
When it was revealed that Jill was suffering from cancer yet again, David flew to her hospital bedside to encourage her in her brave fight against the disease. He is full of concern and admiration for the beautiful actress who is facing her third battle in five years against cancer.
David, still boyishly good looking at 56, said: "There have been lots of gloomy reports in the news about Jill's condition. The prognosis isn't that rosy but she is doing very well.
"I saw her a few days ago at her mother's farm in Vermont and she was smiling and fighting. Her spirit is quite remarkable. The strength of that woman and her determination to make the most out of every minute is colossal, and Charles is an incredibly supportive husband. They are even talking about dong something together next year.
"I took my daughter Sophie with me and when we left, she said: 'Dad, I think she is going to be all right.' "
Glaswegian-born David had flown in from his home in New York where he has been based ever since his marriage to Katherine to promote Mother Love. His down-to-earth manner is totally at odds with his cool sex symbol image. When he read the script of Mother Love he immediately drawn to the role because his dream had finally been realised.
Born into a musical family -- his father was an eminent violinist who was the leader of various top orchestras, including the BBC Symphony Orchestra and the Royal Philharmonic Orchestra, while his mother was a cellist -- it had been a lifelong ambition of his to conduct an orchestra.
He spent many hours watching conductors at rehearsal until he felt comfortable in the role of picking up a baton. "I think I'm going to get offers after this," he jokes. But his performance is so convincing, complete with his hair falling across his face in the more energetic moments of the musical piece, that it could well happen.
It has certainly brought back memories of how similar the TV character was to his own father. David said: "When Vesey is at home, he is working on scores and getting ready to conduct. He doesn't have time for anything else, and my father was like that.
"My father would come home for something to eat and play the violin until he went to bed. There are a lot of people on that scale. Not so much with actors -- I'm not like that. You can't act in your living room.
"Like Vesey, I like to have my family around me. You have the pressures of work outside and your home and family are your security.
"When you're working, that's all you want to do. You don't want to worry about anything else. That's why Katherine won't come with me on location. Apart from having her own successful career -- she is an interior designer -- she says she couldn't stand the rejection."
But as soon as he leaves the film set, he goes home, closes the front door behind him and takes on a new role -- that of devoted husband and father.