Mr. Magazine, 1966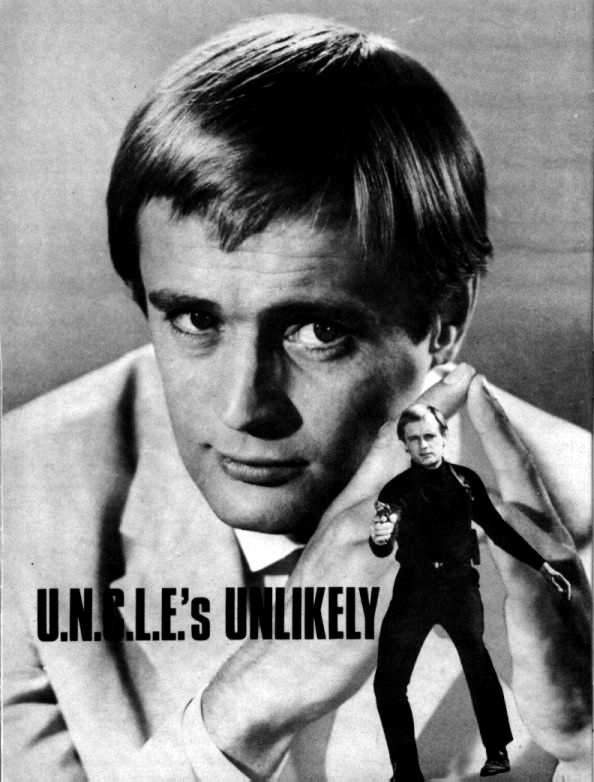 U.N.C.L.E.'s Unlikely Sex Symbol
by Bernie Stiles
In Glamoursville-on-the-Pacific, where any leading man worth his salary has to be tall, dark and handsome, David McCallum was given about as much chance of being a runaway success with the dames as Lassie. Even in England, where acting ability is given somewhat more importance, and physical appearance less, he had plugged along as a "young character actor," which is a polite way of saying he never wound up with the girl.
After all, he is all of 5'8" tall and weighs a neat 140 pounds, complete with the turtle-neck sweater which has become his trademark. His hair is blond and hangs down in a bang over his forehead. He's not handsome in the classic sense, nor homely in any rugged he-man way.
Yet as Illya Kuryakin, the "other man" from U.N.C.L.E., he's become the rage of the dames, teen-agers and their mothers alike. And nobody could be more surprised than David, the dour Scot who plays Illya in the NBC-TV series. "I have no idea what being a sex symbol is," he has said.
But he's learning. The series is filmed in Hollywood from Monday to Friday and on weekends David and Robert Vaughn, who plays Napoleon Solo in "The Man From U.N.C.L.E.," are sent out into the highways and by-ways of the nation to bolster the series' ratings by personal appearances. And wherever he goes -- Dallas, Baton Rouge, Springfield, Ill, Washington, or Detroit -- David is mobbed by screaming females who almost tear him apart in their eagerness to touch him... to kiss him... to snatch a souvenir button from his jacket... to hear him speak in that indefinable European accent he uses as Illya. The way the babes carry on, you'd think he was a Beatle, or Elvis Presley, or a young Frank Sinatra.
In New York on Saturday in February, he was due in Macy's record department to autograph a disc on which he had done the narration, but while he was having lunch in a private dining room with some of the brass, the girls were crowding the store at such a rate that ordinary Saturday shoppers didn't have a chance. Salesclerks and other employees tired to keep them in check, but eventually they gave up and called the cops to stop the near-riot. Twelve kids fainted and while David was being spirited out of the store -- his appearance cancelled -- word came that the mob back at his hotel was even worse, so he was hustled out to the airport and put on a plane for the West Coast.
Even at home he's not safe. One woman and her daughter make a practice of going through the McCallum garbage regularly in search of souvenirs. When he's not plowing through the 32,000 fan letters he gets each month, practically all from dames, David has had to learn a judo trick to take care of the tootsies who grab him by the necktie and hang on. When he went to the premiere of "The Greatest Story Ever Told," in which he played Judas, the crowd outside gave him such a rush he could scarcely get into the theater.
But it's not just the teen-age Beatle crowd -- though he's the No. 1 boy with them -- that digs Illya. Up at Wellesley College, which is sort of a female version of Harvard, attended by wealthy and social and egghead types who are mostly more interested in Johann Sebastian Bach than in any present-day entertainers, the babes blew a gasket when they heard he was about to kiss a girl in one episode of the series. A letter to the producer protested that the blood of 1,741 Wellesley U.N.C.L.E. watchers would be on his hands if he went through with such a dastardly deed. And a follow-up telegram read: "If you hire anyone as romantic lead opposite Illya, MGM studios and every TV tuned into U.N.C.L.E. will be blown to smithereens and all Wellesley U.N.C.L.E. agents will double-cross U.N.C.L.E. for THRUSH."
"It's disquieting -- that's what it is," says David, as he tries to explain away his sudden popularity by arguing that it's not he the dames are after, but Illya, or quipping, "I'm just a blond Beatle."
But there's no denying that Illya is a McCallum product, dreamed up by him out of his years of experience on the stage and in films. When the series was conceived, the character of Napoleon Solo was pretty clearly outlined, but Illya Kuryakin was a shadowy figure, a second banana of whom not too much was expected. It was David who made Illya a person, and an important person, in the scripts...who contrived his costume, and his accent, and the mystery which surrounded him. "David gave the role a life force," says Sam Rolfe, the producer-writer who developed the series. "The way he plays him, Illya will never be the guy who goes out for sandwiches."
"The dour Scot," as he calls himself, was born, naturally enough, in Glasgow, the son of a violinist who later became concert master of the London Philharmonic Orchestra. His mother, Dorothy, is a cellist. With this background, he was expected to become a musician and wound up with an oboe, an instrument he describes as "the ill wind nobody blows good." But by the time he was eight or nine, and had moved with his family to London, Little David already had the urge to act and spent a good deal of time hanging around the BBC studios, where he was good enough at various accents to lug home a sizeable number of pay checks.
By the time he had finished the English equivalent of our high school, he had peddled his oboe to an uncle (not U.N.C.L.E.) for 85 pounds and enrolled at the Royal Academy of Dramatic Arts. After two years there, learning how to cross a stage without falling down or getting between the stars and the audience and stuff like that, he signed on as a prop man with an opera company. Then came two years with the British Army in Ghana before he got back to England to serve his acting apprenticeship with repertory companies in the provinces. By 1957 he was a rising young actor -- character type -- in English films.
He knew people -- he had friends -- but no mobs of gals stood outside the stage door, or the BBC studios, or the movie lots, to scram and drool as he came and went. But he must have had something that appealed to the dames, event hen for it was in 1957 that he spotted the picture of a young actress on the cover of a magazine and determined to marry her, which he did, just seven days after they met. Her name was Jill Ireland. They are still very much married, and the parents of three boys -- Paul, eight; Jason, four; and Valentine, three.
Jill was much better know in those days than David, but while she was pre-occupied with motherhood, he was working his way up the show-business ladder -- in those non-romantic roles -- until in 1962 he was signed to play Judas in "The Greatest Story Ever Told." When he came to the United States for this, he and Jill had made the big decision -- they came to stay!
At first, things went along much as they had back home in England. David worked fairly regularly, making guest appearances on such television shows as "Perry Mason," "Outer Limits," "The Great Adventure" and "Profiles in Courage." He was a competent actor, it was agreed by everyone who gave him a thought, and would probably never starve -- but neither would he ever become a tremendous star. And if anyone had mentioned it to him, David would have been the first to agree.
But in the fall of 1964, he latched onto the role of Illya and, with it, a contract at MGM, where the series is made. "The Man From U.N.C.L.E." got off to a shaky start, but a time change in the middle of the season zoomed its rating and assured it or renewal for a second season. And, as the weeks passed, the dames became more and more aware of the crazy blond with the bangs and the turtle-necked sweater.
Never underestimate the power of a woman! As the brass in Hollywood saw the fan mail pouring in, and heard of the mobs surrounding McCallum wherever he appeared, everyone began getting on the bandwagon. Last summer, instead of loafing around the house or lolling on the beach, McCallum was hustled off to Florida, where he made a movie, "Around the World, Under the Sea."
Last winter he had all the guest appearances he could handle on shows which figured to get additional rating insurance by advertising David as a visitor. Carol Channing chose him as her co-star of a TV "special," and plans were made to give him a "special" of his own. So he doesn't sing and he doesn't dance -- that didn't keep him from being wanted by Andy Williams and Dean Martin and all the rest of the big variety shows. And for this summer, another movie has been planned in which he will star, surrounded by a top cast, and no second-banana, character-actor stuff about it.
Meantime, back at the ranch, which is a ten-room Spanish pad located equally distant from every studio in Hollywood -- David's not Scotch for nothing -- McCallum has dug in for the duration. Sure, he likes all the success and the fame and all those green American dollars -- but he's not going to let any of it deprive him of his privacy, or change his way of life. No reporters have been able to con their way in -- and no fans have, either -- and the McCallum kids are having to grow up without benefit of photographers.
Hollywood being Hollywood, there have been rumors, or course, since David became a sex symbol, that all was not well in his marriage. And since he and Jill appear from time to time alone, or in groups of other people, the rumors have been hard to extinguish. Jill has also gone back to work, which in Glamoursville usually spells t-r-o-u-b-l-e. When he says anything at all -- he's not the world's most talkative actor -- David denies this. They do different things, he explains, because they like to, and if he wants to fiddle around the house while Jill goes to a movie -- that's their way of life and whose business is it anyway?
Whether of no, there are a lot of dames -- and that includes those 1,741 tootsies from Wellesley -- who wouldn't shed a tear if they got the word that Illya was fancy free and available. That's one of the hazards -- or the fringe benefits -- of being a sex symbol.