cnn.com 2/3/09
'NCIS' actor's portrayal is dead on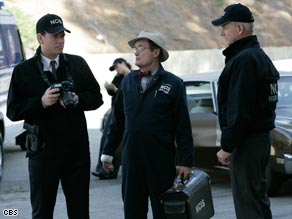 Actor David McCallum portrays Dr. Donald "Ducky" Mallard on "NCIS"
By Lisa Respers France
CNN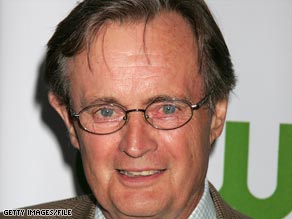 (CNN) -- If it looks like David McCallum knows his way around the many dead bodies that pop up on the hit CBS show "NCIS," there is a reason.

The Scottish-born actor portrays the show's quirky medical examiner, Dr. Donald "Ducky" Mallard, and has immersed himself in the subject of pathology, collecting extensive reading materials and sitting in on full autopsies.
"It's the most exciting and astonishing," McCallum said of watching real-life coroners at work. "It's two hours of learning more about the human body and what a miraculous business it is than you could ever imagine. It is quite extraordinary."
Also extraordinary is the wave of popularity "NCIS" is enjoying. After slowly building an audience, the show -- now in its sixth season -- has become a regular visitor to the Nielsen top 20 and has developed a devoted fan base worldwide.
"NCIS," which stands for "Naval Criminal Investigative Service," is a spin-off of another acronym-boasting CBS show, "JAG" (short for "Judge Advocate General"). Mark Harmon heads up the "NCIS" ensemble cast, which brings a dash of humor and camaraderie to its healthy dose of whodunit.
The show's popularity has now risen to the level that producers are releasing a two-CD set, "NCIS: The Official TV Soundtrack," which includes the show's theme song and a number of brand-new tracks intended for prominent placement in "NCIS" episodes.
McCallum said he knew from the start the show would be a success. He was immediately attracted to the bow-tie-wearing, eccentric Ducky, who can clear the room with his rambling stories almost as quickly as an eviscerated cadaver (a frequent guest in his lab).
"It was love at first sight," McCallum said of his first introduction to the character. "I just read the pages, the words."
The audience also seems to have taken a shine to the dashing Ducky in what is sure to be a sense of déjà vu for McCallum.
In the 1960s, he shot to heartthrob status as blond Russian agent Ilya Kuryakin in TV's "The Man from U.N.C.L.E."
Although he had been a steadily working actor -- appearing in theater and movies including George Stevens' "The Greatest Story Ever Told," in which he played Judas Iscariot -- "The Man from U.N.C.L.E." brought McCallum into a new dimension of fame.
"It was all a bit crazy all through that time," he recalled. "They said I was the best thing since peanut butter and jelly. I don't think you can get a better compliment than that."
McCallum said that although it was "an interesting and wonderful time," it was also one of transition.
While publicly he was receiving thousands of letters a week from fans, privately he was in the midst of a divorce with the actress Jill Ireland, who went on to marry Charles Bronson, McCallum's co-star in 1963's "The Great Escape."
But he came through it, McCallum said. He's been married to his wife Katherine for almost 45 years. He says one of the most challenging aspects of the show is being away from his family in New York. ("NCIS" is filmed in Los Angeles.)
McCallum had carved a steady career in acting and was working off Broadway when he received the call for Ducky. He dove right into the pond that is a prime-time police procedural despite knowing nothing about the real NCIS, including its existence -- something he quickly remedied.
"[The actual NCIS] is a real force in the United States," McCallum said. "Then, having found that out, I then knew nothing about pathology."
McCallum has become so advanced in his knowledge, he said, he was was invited a few years ago to present along with U.S. Armed Forces Medical Examiner Cmdr. Craig T. Mallak at the 21st annual James Earl Ash Lecture, held by the Armed Forces Institute of Pathology.
"We designed the whole lecture together with me talking about NCIS, the show, and him talking about NCIS, the real organization, dealing with all the bodies that come from Iraq," McCallum said. "It was just so wonderful to be accepted by that group of pathologists who are, I think, some of the most dedicated people I have ever met."
And what of Ducky? It's up to the writers, McCallum said. He's content to continue on the show as long as Mark Harmon does. He feels "avuncular" toward the star, McCallum said.
The cast is as close as they seem on camera, he added.
"What's really funny is when you see us all getting together in the morning, the amount of hugging and kissing that goes on is really quite obscene," he said. "But it's so nice, so warm."