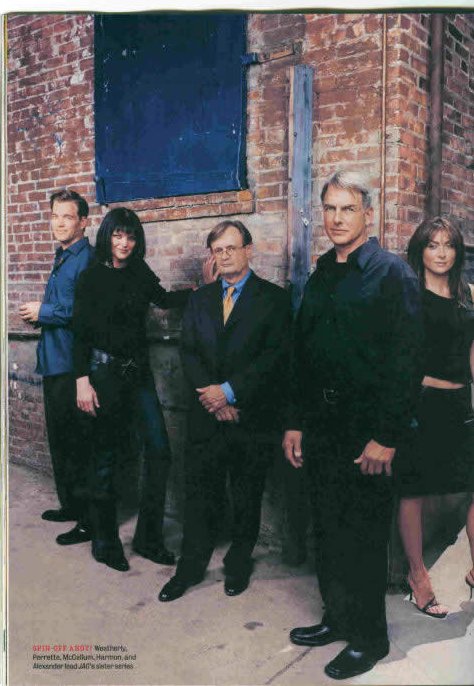 Entertainment Weekly, 9/12/03 FALL PREVIEW ISSUE
EXCERPT
The tension is thick on Air Force One. A dead Navy commander has been discovered on the President's airplane, and Naval Criminal Investigative Service special agent Leroy Jethro Gibbs (Mark Harmon) is trying to bully Secret Service agent Kate Todd (Presidio Med's Sasha Alexander) into handing over the blueprints of the plane's layout to his colleague Anthony DiNozzo (Dark Angel's Michael Weatherly).
"I can't give him Air Force One's floor plans," Alexander protests, as she storms down the narrow hallway. "They're top secret."
"Come on, Agent Todd," he shoots back, hot on her heels. "I saw all this in a Harrison Ford movie."
It's not just a punchline -- it's the truth. The mock aircraft being used for the first episode of CBS's new drama Navy NCIS, in a warehouse in Valencia, Calif., is the very one from which Ford expunged a group of terrorists in the 1997 blockbuster Air Force One. Reasons Weatherly, "It's probably more exciting to be on the Harrison Ford Air Force One than it would be to be on the George W. Bush Air Force One."
But the fake flier isn't the only thing that seems a bit familiar on Navy NCIS. Let's see here: a group of agents investigate crime scenes while their colleagues. Dr. Donald "Ducky" Mallard (David McCallum) and technician Abby Sciuto (Pauley Perrette), perform autopsies and forensic tests, respectively. (Wait--is Marg Helgenberger lurking in the background?) Even the title--NCIS--is nearly an anagram of a certain top-rated CBS show. A new TV series hasn't caused this much confusion since we all thought Dick Wolf's sex-crimes spin-off was called Law & Order:SUV. Says Weatherly, "People were thinking 'Well, what is it? Is it CSI? Or is it JAG?'"
-----snip--------------
For McCallum, best known as charming superagent Illya Kuryakin in the 1960's series The Man From U.N.C.L.E., their anonymity is the show's greatest strength. "It's like an undiscovered treasure," says the actor. "We have the opportunity to exploit that."
In order to draw viewers beyond just JAG freaks, CBS would be wise to exploit the head-turning cast, which features male sex symbols from three different generations. "We did the up-fronts in New York, and all the ad buyers were there," says Weatherly, a former soap star. "These chicks went bananas for Mark Harmon. I mean, like Tom Cruise/Brad Pitt bananas."