St. Louis Dispatch 9/29/03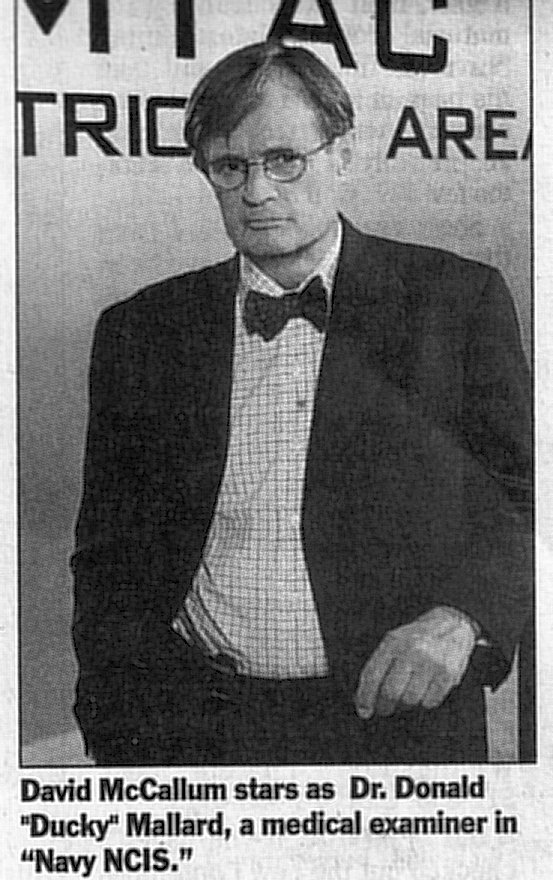 Illya Kuryakin returns to big time TV 35 years after 'Man From U.N.C.L.E.'
By Gail Pennington
Tell David McCallum that you used to have a big crush on him and you may find yourself in his arms. "My dear - at last," he likes to whisper into the ear of women who confess that - way, way back in the '60s - they fell hard for him as enigmatic Illya Kuryakin on "The Man From U.N.C.L.E."
Robert Vaughn, as suave superspy Napoleon Solo, was supposed to be the sex symbol of the NBC spy spoof. But there was something about his Russian sidekick - the accent? the aloof air? the blond hair falling into his eyes? - that made him both alluring and unforgettable.
"This happens all the time," says McCallum's buddy Pauley Perrette, his pierced, tattooed, twentysomething co-star on CBS' "Navy NCIS." The two were hanging out together at a CBS cocktail party in Hollywood this summer, and Perrette was enjoying the attention being paid to McCallum, 70, who was smoking a large cigar and sipping something on the rocks.
In "Navy NCIS," a spin-off of "JAG" that made its debut last week, McCallum plays Dr. Donald Mallard, aka "Ducky," the medical examiner on a team investigating military-related crimes. Perrette is Abby Sciuto, an eccentric forensics expert. Mark Harmon, Sasha Alexander and Michael Weatherly ("Dark Angel") also star.
Although he appeared on CBS' "The Education of Max Bickford" two seasons ago and on "VR.5" in 1995, "NCIS" marks a high-profile return to series television for McCallum almost 35 years after "The Man From U.N.C.L.E" left the air after four seasons on NBC.
"I don't know what it was about Illya," he says. "He wasn't the leading character, you know. But the audience just took to him. It must have been his tortured soul - the ladies just wanted to save him."
"That's not what they wanted to do with him," jokes Perrette, punching McCallum on the arm.
In "NCIS" (the redundant "Navy" will eventually be dropped from the title, creator Donald Bellisario promises), Harmon heads the Naval Criminal Investigative Service, but McCallum's "Ducky" Mallard steals every scene he's in.
"He's an old flirt," the actor says of his character. "But he doesn't mean anything by it, bless his heart."
Illya never got the girls, but "I'm old enough now to be a bit of a lech, which is quite enjoyable because leches demand something to look at. I'm looking forward to that side of it with relish."
McCallum and his wife of almost 40 years live in New York, but he was so eager to play Ducky that he moved cross-county and set up an apartment in Los Angeles.
On first encounter, he said at a press conference introducing the show, he thought Ducky "looked a little silly, but it was great fun to do," especially because the character is "totally different from anything I've ever done."
To prepare, he has been briefed by the real NCIS chief and spent time in the Los Angeles coroner's office, "witnessing autopsies and seeing people coming off the freeways and seeing just what a guy like this does," he says. "I can smell the coroner's office right now when I think about it."
His wife, Katherine Carpenter, an interior designer, isn't wild about how deeply he's getting into the role, McCallum admits. "She says I always bring my work home, and now I'm playing a pathologist, bringing home all these books that she's scared to open."
Thinking positively, McCallum says, "It has broadened my life in an extraordinary way. I have much more respect for life having been so close to death."
Playing Ducky means carefully bridging the gap between comedy and drama, he believes.
"We're dealing with deaths and with all these terrible things. But someone like that has a chance to express himself with a sense of humor. It's black humor, but the comedy is a direct kickoff from whatever they're doing that's so serious." At the same time, "I have a great respect for NCIS, and I just hope we can do them justice."
McCallum fits the mold for a typical, older-skewing CBS character. But Perrette, with her black-dyed hair and eccentric clothes, may be the first Goth chick on any CBS series.
"I've been told that," she says. "But it's definitely just not about the look."
She's been obsessed with forensic science "since I was a child, as morbid as that sounds." As for her character, Abby, "perhaps her pale skin could be because she never leaves her lab. But there's some sort of relationship between the Goth culture (and death). Like, Jonathan Davis from Korn worked in a mortuary."
Ask where her interest in forensics came from and Perrette might launch into a childhood story about climbing fences to get into a wrecking yard, looking for clues about car-crash victims, or wax rhapsodic about retinal scanners or "just the puzzle, the figuring it out." Pausing for breath, she says, "I could talk about that all day."
McCallum beams. "That's my girl."
"Navy NCIS"
When: 7 p.m. Tuesdays
Where: CBS (Channel 4)
Reporter Gail Pennington:
E-mail: gpennington@post-dispatch.com