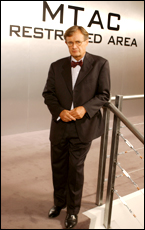 New Zealand Herald, Sept. 15, 2004
Still posh after all these years
28.08.2004
Scottish-Born actor David McCallum - still posh-polite British of accent but with a hint of New York after four decades of living in America - admits he has a bi-coastal lifestyle a lot of guys would envy: "A beautiful family apartment in New York and a bachelor pad in Santa Monica, California."
Of course it isn't all chardonnay on the deck at dusk: "Last week I was at a coroner's office in Los Angeles and watched 15 full autopsies."
That's the price you pay for playing a medical examiner in a top-rating television show. Some call it research, McCallum thinks it just kind of interesting.
As the slightly eccentric Dr Donald "Ducky" Mallard on the acclaimed series Navy NCIS, McCallum says it is encumbent on him to know how autopsies work and how equipment should be handled because the real NCIS - Naval Criminal Investigation Service - is an organisation working worldwide to combat terrorism. "So there is a reality about it, and with reality you have to have a certain degree of truth.
"So my mandate is, when it comes to an autopsy room, and all those things about the recovery of bodies and forensics, I try to keep it as authentic as possible. You have to know how to handle things, and that's how it began. Then I became friendly with a number of people in that world and have been invited to a number of places with them."
So it's long hours of acting - he speaks of starting at 4am and some days not getting home until 2am the following day - and, between times, a round of golf or down at the chop shop with guys in lab coats. A great life.
"And I love my character. I'm one of those actors who likes to get down to the nitty gritty of everything I do and I usually bring my work home, which drives my wife crazy.
"But I can't really do it that much on this, because I'm playing a pathologist. I've met a lot of the military pathologists here at the American Armed Forces Institute of Pathology so I've become the television pathologist. It's really been a tremendous learning curve."
And McCallum's life has been quite a curve, too.
Still remarkably well preserved for a man who turns 71 next month, he started as an acting student at the Royal Academy of Dramatic Arts (Rada) in Britain and made his first television appearance in the late 40s.
"The first thing I did was the Toy Town series. It was on British radio just after the war and they did a series on television in the 40s with people playing toy characters, at 4 o'clock in the afternoon.
"One day they brought all these students from Rada in to play natives in loincloths with their bodies painted brown, carrying spears and going 'ula-ula-ula'. That was it, live television and my first appearance."
He did British theatre and then, in 1961, was invited to America to play Judas in The Greatest Story Ever Told. Since then, he has been a transatlantic citizen playing roles on television, in movies, and in stage productions.
But one role made his career: Illya Kuryakin, the cool, wry and dapper secret agent in the long-running American television series The Man from UNCLE. It was the era of Bond and the Beatles and McCallum's brush of blond hair and boyish good looks, plus a sassy script and his pairing with actor Robert Vaughn as Napoleon Solo, was an immediate hit. They made five feature films (available this month on a three-disc DVD set) and McCallum proved that rarity, a television actor who could move with ease into feature films and back.
He starred in The Great Escape, Billy Budd and Mosquito Squadron, worked on and off-Broadway, disappeared for The Invisible Man television series and, in the late 70s, took up a leading role in Sapphire and Steel alongside Joanna Lumley (New Avengers, Patsy in Absolutely Fabulous) as alien paranormal detectives. It's a weird one and McCallum's natural emotional aloofness was perfect.
His career has been assured since Illya.
"Yes, The Man From UNCLE was the one, then Sapphire and Steels and Kidnapped. There's something strange about television. My mother used to say, 'I know you and I know who you are, but when I see you on screen it's different'.
"There's something that comes through the lens. There are people who just come over well on television, and I'm very fortunate to be one of those. What I do comes over quite easily, there are lots of people like that - but there are also a lot of people on television who think they'll move on and become a movie star. But they don't because they don't come through as well on film.
"Television is a much more intimate medium and you can't tell fibs on it, although we are going through a whole plethora of politicians in this country who do and you just look at them and know they are not talking from the heart."
McCallum has a hesitancy and sincerity that comes across well on screen, and can pop up anywhere. When he slumps down in a hotel room and puts on the television he often sees his younger self looking back. Everything is in re-run.
"The Greatest Story Ever Told was on the other day, a thing called Night Gallery is playing here in Los Angeles and that was done way back in the 60s with wide collars and polka-dot ties and hair down to my shoulders. In the old days, when you did something that wasn't very good because you needed to pay the rent, you could say, 'Don't worry, nobody will ever see it'. But now everybody sees everything."
He admits there are a few things he did he would be embarrassed by but has just bought the DVD box set of Sapphire and Steel and can't wait to watch it. He particularly likes the episode On the Railway Station, widely considered one of their best in the four-year series.
Yes, he pops up everywhere, even now: "I live in New York so you do Sex and the City, Law and Order and those things. But before I did NCIS I had been mostly doing Broadway and off-Broadway."
He was in the last week of an off-Broadway production when three pages of the script for NCIS came his way. He liked it, read for the part of Ducky, then was flown to LA to test for CBS and Paramount. It had been a while since he'd auditioned and now, with the show rating well in the US, he's delighted.
"When you get to my age and somebody puts you in a series that gets into the top 20 in America, what can you say?"
The show is also a departure from the CSI/Cold Case/Without a Trace formula, with odd shots of humour throughout. In the first episode an airport security officer looks at an NCIS identification card and asks if they are like CSI.
"Only if you are dyslexic."
McCallum is signed to a six-year contract, which means flitting back and forth from New York to Los Angeles, some days working 20 hours straight, other days just the morning shift. Then he's off to the golf course, or maybe down to have a look at another body on a slab. If he has a long break he'll go cycling in Umbria or something. Still so public school British after all these years.
"I have the best job in television because I have a wonderful part. Ducky is Ducky and does what he has to do."
And so what is the secret of youth from this Dorian Gray of the small, and big, screen?
"Working hard, having an awesome wife and having a good glass of wine now and then. And, I suppose, exercise. Just lay off the sugar and white flour, the usual sensible stuff. I don't like the word diet, I just eat sensibly and I eat what I want as often as I want. That seems to have worked so far."
And having a bachelor pad is sunny Santa Monica no doubt helps.
WHO: David McCallum
WHAT: NCIS, TV3, Sundays 9.30pm. The Man From UNCLE three-disc DVD set
TRIVIA: The first four Man From UNCLE episodes were directed by Richard Donner who later directed the Omen series, Superman, and the Lethal Weapon series. UNCLE stands for United Network Command for Law and Enforcement.