People Online
The Spy We Loved
David McCallum, once the dashing Russian of The Man From U.N.C.L.E., is playing an imperial part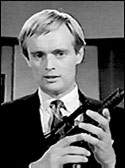 In The Man From U.N.C.L.E., McCallum played a suave Soviet.

Forty years ago, says Scotsman David McCallum, he left the U.K. for the U.S., "because socialism was coming in and I didn't want to be part of it." And what happened? He ended up making his fortune playing a Russian spy.

At the height of his fame as Illya Kuryakin, who fought international crime for four years in The Man from U.N.C.L.E. alongside Robert Vaughn, McCallum inspired 32,000 fan letters a month.

Uncle was part of the '60s TV spy craze that also included I Spy and Get Smart. It ran from 1964-68. The team appeared in two feature films, 1965's The Spy with My Face and 1966's The Spy in the Green Hat, and in 1983 reunited in a CBS telefilm, The Return of the Man from U.N.C.L.E.

That was then, this is now. The handsome spy of yore is 66 and appearing as the bewigged Emperor Josef II in Broadway's Amadeus. But McCallum says it doesn't matter how many years have passed -- for him, being recognized as Illya is "a daily event." Sitting in his small dressing room at the Music Box theater, he points with amusement to 30-year-old photographs sent to him by fans to autograph. He's surrounded by historical books, flowers and letters from fans all over the world.

He says it's serendipitous that he is appearing in Peter Schaffer's famous play about the 18th century composer Salieri's hatred for Mozart. After all, his father, David McCallum Sr., was first violinist for the London Philharmonic and his mother, Dorothy Dorman, was a cellist.

Brought up in a musical family, young David briefly studied briefly at the Royal Academy of Music. "My whole life was Mozart and music," he says. But he abandoned his oboe studies for the Royal Academy of Dramatic Art.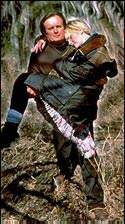 In Showtime's "The Outer Limits," 1997, McCallum carries an unidentified actress.
After small parts in British films, (including a film about the Titanic, A Night to Remember) McCallum and his then-wife, actress Jill Ireland, headed for Los Angeles. After roles in 1962's Freud and 1963's The Great Escape, he was chosen for the role of Illya.
"There was a lag time of several months between the time we began filming and the time the public first saw us," McCallum says. "My part originally wasn't that big. Actually, I was supposed to be replaced at one point during the initial shooting. But finally, the producers saw the chemistry between Robert and me so they began to write me in more." And also, of course, the girls got a look at his blond Beatle haircut, heard the accent, saw that Illya was not only enigmatic but totally unavailable -- and swooned.
After the series ended, McCallum continued to work steadily in film and television doing acting and voiceovers but returned to a network TV series only once, in the flop 1975 Invisible Man. The roles he's done have been varied -- he even conducted the BBC Orchestra while playing conductor in the public television series Mother Love.
His personal life wasn't as smooth. He and Ireland divorced in 1967 (she went on to marry Charles Bronson and died of cancer in 1990), and their son Jason died of a drug overdose in 1985. McCallum has four other children, two sons with Ireland, and a son and daughter with his second wife, interior designer Katharine Carpenter. The couple, married for 33 years, live in New York City.
A dedicated actor, McCallum is still researching Josef II and Mozart even though the play has already opened. He claims the role of Emperor Josef II is "like drag racing." "My times on stage are in short spurts, so I've got to rev up backstage and be on when I get out there," he says.
That's David McCallum, making every moment count.
-- Maria Ciaccia (pronounced "cha cha")
To visit Maria's website, click here.
Posted on March 10, 2000