September 2010 at privateclubs.com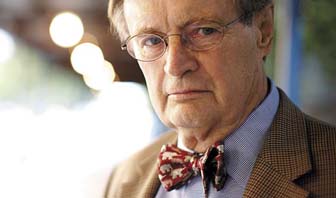 David McCallum
BY DAVE ORMAN | PHOTO BY CHRISTOPHE RANDALL
Braemar Country Club, Tarzana, Calif.
Member since: 2008
Who he is: The versatile, Scottish-born actor plays talkative medical examiner Donald "Ducky" Mallard in the smash CBS series NCIS - long after he gained fame as Illya Kuryakin in the 1960s hit, The Man From U.N.C.L.E.
Between Illya and Ducky: There has been a lifetime of work in film, TV, theater, and books on tape, including a personal highlight in 2000 playing Julius Caesar under the stars in New York's Central Park ("I rode my bike to work - so cool!").
Recognition: Illya remains a favorite, but he says most people recognize him from NCIS - even when he's walking in Manhattan fresh from Pilates class. "It's either 'Ducky!' or 'What's up, Doc?' People watch this show to an extraordinary degree."
What they'll watch next: NCIS begins its eighth season this fall, picking up from last May's drug-cartel cliff-hanger and concerns regarding the fate of a number of the show's characters.