http://www.rainbownetwork.com/
Gaydar News Feb 9, 2011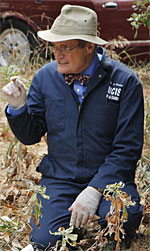 Actor David McCallum was born in Glasgow and has appeared in a string of classic films and TV shows, including The Great Escape, Colditz, The Man From Uncle and Sapphire and Steel.
He lives in New York with his wife Katherine Carpenter and currently stars in NCIS, which can be seen on Five and FX.
Congratulations on the success of NCIS. Have you been surprised by its popularity?
Gratified at the amount of work that goes into it to this day. The one thing that this cast has never lost is enthusiasm and everybody's there half an hour early, people work late. The amount of care and attention that goes into this show.
Producer Don Bellisario gave us a wonderful vessel and we've kept it floating ever since. The success of the show is a reflection of the effort that goes into it on behalf of everybody.
Making The Man From Uncle must have been fun.
It was a wonderful job in that it was regular employment, which is always good for an actor. That's why NCIS is quite extraordinary. To have regular employment and a regular cheque as an actor, no matter what your career is doing, is something basic. We had Leo G Carroll and a litany of who's who in American film. George Sanders came and did a couple of shows, Jack Palance, Elsa Lanchester, Joan Crawford.
The Invisible Man was a great series in the 1970s. What are your memories of that?
We had such a good time doing that and it was an absolute ground breaker.
You had a different take on it compared to the rest of the crew.
I played it as a drama, they wrote it as a comedy and nobody ever told me what we're trying to do here is a comedy. I was so concerned with getting my head in the right place at the right time, we never thought about concept. And that slight Lucille Ball element to the whole thing is something I discovered afterwards is what they wanted.
Tell us about the time you were interrupted on the set of The Six Million Dollar Man.
I was in the second episode of that. When I was doing it, I stopped because a tram came by and people were talking on a loud speaker to a lot of people in the tram. The director said, "We now have tours through Universal Studios and we don't stop for them. We will dub you later, just keep going".
Classic 70s TV drama Colditz has recently been repeated on Yesterday. What was that like to work on?
I went over to London for two years, took a flat in Notting Hill Gate. I had a three-year-old son at the time; Robert Wagner was married with Natalie Wood and they had a little daughter and our children would play together and we'd be together quite a bit. I had done my National Service so I knew how to wear a uniform and have a parade and had a military mind, which was a big help.
By the 80s, Sapphire and Steel was a cult hit. Are you still in touch with Joanna Lumley?
Joanna and I have remained close friends in that we send Christmas cards and when I'm over in London, I call her up and try to have lunch with her. What a fantastic woman she is.
That must have been a complex show to work on.
Yes, it took on very philosophical and deeper roots and such like. My mother's cleaning lady Mrs Puttock, bless her heart, she said she absolutely loved it, but she didn't understand a single word of it, so from them on any script, even on NCIS, I try to make them 'Puttock proof'.
Would you like to do a one-off show that wraps it up?
I would like to do either a film for television offering. It would be very, very interesting to see just what you did with it. It would absolutely not wrap it up. It would be another cliffhanger at the end of it. It would have to be. You can't destroy or put those two characters to bed. You should give it to someone like Joe Stefano who wrote Psycho and did The Outer Limits series.
How do you feel as an actor compared to when you joined Equity in the 1940s?
I've been a professional actor for quite a long time. Two years from now I'll be 80-years-old. The numbers don't make sense any more. Apart from feeling a little stiffer than you used to be you don't feel any different.
Do you have any regrets?
I would like to have played the piano, but another is that I didn't keep an autograph book. From presidents to baseball players, all the way down the line I have met so many extraordinary people. I always think of my hand that's shaken hands with so many extraordinary people.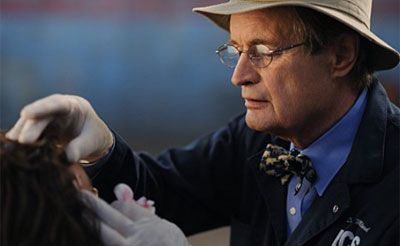 NCIS is shown on Five and FX.