Rincon Juvenil, 11/30/66
Click here for magazine cover picture.
Whose Fault was it?
Two versions of the reason the McCallums' Marriage failed
Jill says it was Hollywood and David's Fame.
Others, (say) that she abandoned it.
- My marriage failed and I will never get over it. It still is everything to me, and always will be. It's still a part of me. It doesn't do any good to try to convince oneself that this is nothing more than a passing crisis. I believe that (we) both have to be honest and admit that what was done, is done. One can never go back. Yet one always wants to.-
So says Jill Ireland, separated wife of David McCallum. To many these words seem strange, because the rumors ran that she was at fault because she fell in love with another man. But, we will continue listening to her version.
Why did your marriage fail, Jill?
Because Hollywood changed David. He had never been really famous before. he had never had money. He had been nothing more than an actor looking for exposure. He had me and our three sons.
FAME CHANGED HIM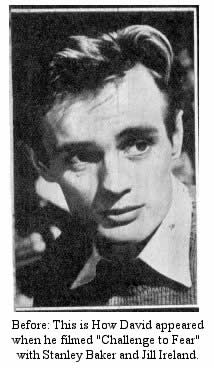 Then he began to make the series "The Man from U.N.C.L.E. for television, and suddenly he achieved fame. It follows the young and talented ones. In a few weeks everyone was talking about him. Immediately he was showered with offers to make films in all parts of the world. He began to believe that his freedom was the most important thing, and he drifted away. I lost my husband becayse of Hollywood and exposure."
She sips her iced tea and waits for my next question.
Was the crisis very sudden, or did you have time to talk about your problems?
Jill smiles sadly
It was not sudden. I saw it coming for months. David was restless. He left at dawn and came back late. he was silent, and moody. then , one night during a meal was a strange silence. We both dropped our covers. And suddenly we were talking about our problems. We spoke calmly, coldly, and serenely and decided that the best thing to do was to separate.
A DIFFICULT CHILDHOOD
The days when David and Jill were happy are far away. even farther away are the days he began to define himself as an actor, and a man.
David was 7 years old when his world collapsed under a weight of death and destruction. To this day he remembers the horror of the bombings, the hungry days of rationing, and the train that took him and his brother to Loch Lomand in Scotland to escape this inferno. The bombs were st5ill falling on London when David returned to the house of his parents, David and Dorothy McCallum. With the end of the war, David's life returned to peacefulness. music, Literature, and interesting conversations were as natural to him as breathing His parents thought that he would follow their footsteps in the field of music but david had other plans. He had fallen in love with the profession of acting, and at 14 years old, he decided to dedicate himself to it.
He got jobs with the BBC, and happily performed for nothing to gain experience. In 1951 his career was interrupted by military service. when it resumed, he became a member of a company that played in the provinces. He didn't earm much, but it gave him the opportunity to play a variety of roles
His patience was amply rewarded when he was called upon to act in the J Arthur Rank Film, " Diamond Patrol."
THE ARRIVAL OF LOVE
Certainly David knew lots of girls, but until he met Jill, he didn't know what it was to be in love. He knew her from magazine photos, and never dreamed that he would be in her company in fact. This happened in "Tierras Bravas" (Robbery Under Arms) Seven days after they met, they were married in the Office of Civil Registry in Islington.
Jill's career came to a second end after her marriage. Her first concern was to be David's wife and a true mother to her three sons, Paul, 7, Jason 4,& Valentine, 3. Just to break the monotony of her work as lady of the house, she accepted a role in the Man from U.N.C.L.E. - Jill needs a vent for her talent- said her proud husband not long ago. Apart from her stupendous work as an actress, she is also an excellent lover of fine art. For this reason she opened a can art Gallery in Beverly hills in association with Charles Bronson.
What David didn't know was that this moment was precisely the fatal moment in both their lives. They say that the husband is the last to know when his wife has fallen in love with another man. Well the other version of the "affair" says that Jill and Bronson had more interests in common than just the art gallery. as incredible as it may seem to the innumerable adorers of David, she had abandoned him!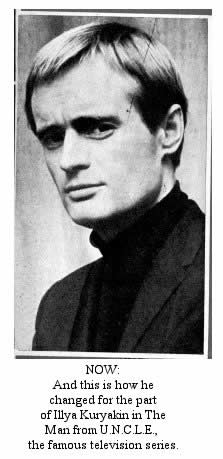 THE END OF A DREAM
Divorce. the word ran like a trail of dust when David was in England filming "3 Bites of the Apple" . David had become more taciturn than ever. he had always refused to discuss any aspect of his personal life with the press. he had never permitted his sons to be photographed or interviewed. And, now, more than ever , he had closed himself into a great alienation.
But, let's return to my interview. I asked Jill if she had read the comments (hints) in the dailies that linked David with other women. Didn't they bother her?
-Well, we're separated. I'm sure he likes to go out for a good time.
And David? He is Mute.
The next day, I tried to see David at his hotel in Hollywood. They told me he had left. I called him on an internal telephone, and they connected me with him.
I asked him about his new movie in Italy.
_"It's a comedy, not an espionage movie," he answered me. "I play the part of a guide for a tourist agency."
I told him that I had been with his wife the day before. "Will there be a reconciliation, or has everything really ended?"
The Man from U.N.C.L.E. did not answer. He hung up the phone.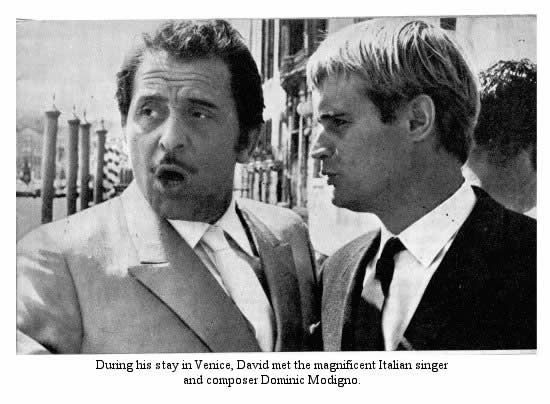 Click here for another picture from "Three Bites of the Apple"