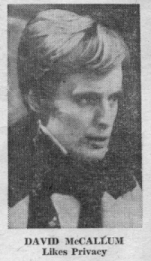 McCallum a Mystery Man Off Television Screen, Too
HOLLYWOOD (UPI) David McCallum, costar in: "The Man From U.N.C.L.E." series, is a close-mouthed Scotsman who refuses to discuss his private life and, indeed, is dedicated to remaining a mystery man.
This attitude dovetails with his role of Illya Kuryakin, the Russian sleuth who belongs to a secret international police society.
But McCallum does admit to a few things.
He is 31 years old and married to actress Jill Ireland. They have three sons, Paul 7, Jason 3, and Valentine, 2.
He also reveals that he lives in a 35-year-old Spanish house in Hollywood with a view "from city hall to the Mormon Temple."
McCallum speaks slowly, deliberately measuring his words. He has a slight English accent with overtones of a Scottish burr. His blond hair is shaggy for his role and combed forward. He is a slightly-built man but well-muscled. His eyes are blue and cold.
"I am a very mundane man about my environment," he says. "If I'm esthetically satisfied and mentally stimulated then everything is all right. But I reserve the right to personal privacy.
"When I go out to the supermarket I try to dress and behave as an actor should – aware that I am a performer at all times. Show business is based on non-truth and unreality; therefore the picture that the public has in its mind of a particular personality is based on what they see within that unreality.
"If you allow them to see your reality, you destroy the carefully built up image. It does severe damage to the actor and his career."
For that reason McCallum refuses to discuss his wardrobe, social habits and such other miscellaneous tidbits.
He refuses to allow the press in his home, much less photographers.
McCallum drives a foreign car to MGM studios where the NBC-TV series is filmed. Jill and the children dash around in a sporty American model.
McCallum originally came to California three years ago to play Judas in "The Greatest Story Ever Told." He stayed on when offered his present role in the popular video adventure drama.
Unlike the character of Illya, McCallum and family lead a quiet life. Some of their friends are in show business; some are not. But again, the actor refuses to talk about his friendships.
For recreation he travels around the United States.
"But not just sightseeing," he says. "I enjoy people, not places. The only thing I miss about England are the few friends we have there and, or course, our families.(sic)
---
New Jersey
David McCallum, "The Man From U.N.C.L.E." is the man in "The Mousetrap," the current production at the Paper Mill Playhouse in Milburn, New Jersey. The famed Agatha Christie mystery-comedy is in its 24th consecutive year on the London Stage, a seven-year lead on New York's longest-running play "The Fantasticks." "The Mousetrap" continues through Feb. 20 at the Paper Mill, followed by George Kelly's "The Fatal Weakness," starring Eva Marie Saint.
---
…Three Bites of the Apple is a superior light comedy with an adorable performance by Tammy Grimes as a spinster, David McCallum showing he can play real comedy (He is a tour guide who wins a fortune gambling), and Sylva Koscina, a bit stilted, but very beautiful as a fortune hunter. Congratulations to the producers for giving us a film where sex scenes do not smash us over the head. You'll enjoy this one…

---
DAVID McCALLUM: Most of those who don't know me well enough would say that ;my greatest shortcoming is my shyness. But that isn't so, you know. I am not really shy. It's just that I have been betrayed by people so much that I am wary of any new relationships. I would say, as I analyse myself, that my greatest fault is my almost total attention to my work, my career, making David McCallum all that he is able to be, in every field of endeavor in which he has talent or shows promise.
---
David McCallum agreed on Jill Ireland's property demands so she could obtain an interlocutory divorce decree. She gets the house and a share of the bank account. David had second thoughts about signing the papers. The day they were originally going to meet with the attorneys, Jill was served with papers as a defendant in a $30,000 damage suit brought by the ex-Mrs. Charles Bronson. Mrs. B. charged Jill with assault and battery. Certainly it's no secret how Mrs. Bronson feels about the long standing dateship of Charles and Miss Ireland. Jill feared that because of the suit David would change his mind about signing the papers.
---
(Feb. 1966)
McCallum, Scream Set Idol, And Trusty Pen at Macy's

"I'm 9 years old and have such a crush on David McCallum I can't eat my dinner…"
"My mother won't take me to your store tomorrow and so please get me an autograph of David McCallum…"
"Because I have to go to a stupid kid's party my mother won't let me meet David McCallum tomorrow so would you get me his autograph?"
"Tomorrow" is now today, and Macy's will resemble a Hollywood premiere for the younger set as David McCallum, co-star of TV's "Man from U.N.C.L.E." makes a personal appearance at the 34th st. (sic) store.
He will be there today only – from 11 a.m. to 1 p.m.
And Macy's will have a hard time getting all the autograph requests from those who won't be there. The store's mail bags have been burstin' out all over with such requests.
The tall (sic) blonde (sic) star will autograph his latest record album "Music—A Part of Me" for his admirers.
The album, a Capitol Records release, consists of 11 songs in which David plays the oboe of the English horn (sic).
Among the songs are "A Taste of Honey," "Yesterday," "The In Crowd" and "Turn! Turn! Turn!"
---
If you want to know what it's really all about, ask somebody like David McCallum, for instance. He'll give you the real inside story. David has suffered. His family has suffered, his Aunt Sadie and his high school English teacher have suffered. And all because David wanted to be famous.
No one had made such a big splash in years as David did when he first appeared on U.N.C.L.E. Everyone was ecstatic. Everyone wanted to know what he ate for lunch, when he combed his hair. Twelve months later, his agent was telling people that David wasn't going to give any more interviews. His family was off limits to the press. He wanted his privacy. 14 hours a day, then would have to spend his evenings studying his lines for the next day's shooting. He was away so often, so much in demand, that is wife found time to fall in love with another man. Now David's divorced and married again. Will Katherine Carpenter be able to bear up to the invasion of privacy any better? It's no fun being a star – not for your family, your friends and not for you.
---



(Morning Telegraph, Feb. 3, 1966)


Tough as High-Powered Spy, He's Really Soft-Spoken, Shy
He's a tough, fast-thinking, high-powered spy – Illya – in "The Man from U.N.C.L.E." but in reality, David McCallum is soft-spoken, retiring and impish. He is somewhat embarrassed by the adulation he encounters from teenagers and many adults. Furthermore, he doesn't understand it.

Understand it or not, McCallum came face to face with this adulation when he was in New York recently to appear on both "Hullabaloo" and "The Tonight Show starring Johnny Carson." On the former, it took four guards to free him from the audience after the taping. On the latter show, it took David more than an hour to get from the NBC elevators to a waiting car – a distance of no more than 200 feet, due to the crowd that collected after the show to greet him personally.

Looks Older Than He Is (sic)

The slight, blond Scotsman looks no older than his fans. He has a shy, boyish hesitancy about him that belies his age (he is in his early thirties). Although the adulation, as mentioned, embarrasses him, he is never anything less than courteous (and charming) to those who request an autograph or wish to chat with him a few minutes. And the latter is not always easy for him.

"I have found that quite often I have an inability to communicate with people," explains David. "It's not that I don't want to talk with them, I just can't. Call it shyness if you will but whatever it's called, conversation isn't one of my arts."

Although McCallum, from the beginning, expected "U.N.C.L.E." to be a sensation, he did not expect that he would achieve anything more than middling popularity. He thought the show would make him "a minor name of sorts." He says, "I've gotten more than I've bargained for." His only grave complaint about fame is that "Its (sic) forcing me to always be 'on.' From the moment I leave my house, I'm giving a performance. I'm either Illya Kuryakin or David McCallum, the star. Other than in the privacy of my home, I'm never just me."

David claims that actors, trained as he was in English repertory companies, don't care very much about adulation or fame: "We care about work only and we work primarily to satisfy ourselves."

Thus, it is doubly difficult for David now that he finds himself in the position of some kind of god to teens who ask him for advice. "I refuse it. I'm not qualified," he says. "Even though I might have an opinion, it just might not be valid."
---
A Musician Named McCallum
While the crowds seethed below, David McCallum, also known as UNCLE agent Illya Kuryakin, sat quietly in Macy's elegant 13th floor executive dining room. The crush on the 5th floor, where he was scheduled to autograph copies of his new record album, was so heavy that his appearance had been canceled.
All over the store, the loudspeakers were pleading: "David McCallum will not appear today…David McCallum will not appear today." It was a plea that the girls in the store, estimated from 5,000 to 15,000 quietly go home.
Upstairs on the 13th floor, Chuck Painter, who makes all the arrangements for McCallum's appearances, was clutching a green sheaf of papers. "This is the battle plan," he said. "We set up this maze situation. It prevents frontal onslaught. In every city but this it has worked beautifully. Here there was such a huge crowd that it plowed through the barricades of the maze." Even UNCLE would have been powerless to deal with McCallum fans.
The girls uprooted the supposedly immovable 2-by-4s that formed the maze. They tore down blowups of McCallum's photographs – some even offered to pay for them. When it was announced that he wouldn't appear on the 5th floor, the girls began to look for him. They invaded the sub-basement and the radio room – it was like the seizure of a Latin American government.
They tried the executive elevators and trailed anyone who looked like a reporter or photographer. "I've just got to meet him," said one teary-eyed girl. "My mother met him and I've got to meet him too."
McCallum shook his head sadly and said that he would never make another personal appearance. Nothing like this had ever happened before, he said. If it had, he would not have come to Macy's.
Dressed in a blue silk suit, blue shirt with grey pearl buttons and deep red tie, he submitted to the questions of interviewers. He sat with head bent forward, looking up from under his eyebrows.
If there is a key to McCallum's attractiveness, perhaps it can be found in those eyebrows, the most mobile part of his face. As he speaks, they move constantly, raised one moment so that the lines stretch across his brow, drawn together so furrows form between them. A corner of his mouth lifts occasionally, or both corners draw up into a smile.
"When you become well known, the record companies come to you and say, 'Sing'" (sic) said McCallum. "I can't sing and I wanted to do something I knew how to do. It's part of my small sense of values." So he chose to conduct and compose on his album: "Music…a Part of Me."
He heard a sound in his mind – it will doubtless be called "the McCallum sound – which 17, working in repertory theater and making $36 a week, his father proposed that he go to the Paris Conservatory to continue his study of music. "He told me I'd ruin my health and not make any money. His whole thinking was based on economics. I felt I could make the grade in theater and not in music. That's when I moved out. Sometimes a child feels he can't live in his parents' house…
"But now everything's come round in a circle. Now my acting has enabled me to go back to the music." And the music may have enabled him to escape the "thinking based on economics" that demands public appearances.
---

Monty, while portraying Freud, was suffering from a cataract problem, which threatened him with blindness, and his memory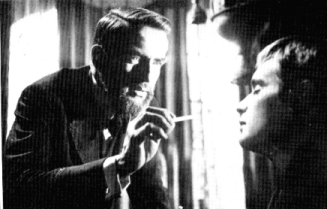 was poor. Yet none of Monty's problems are visible in the film, which shows both his eyes and his mind as lucid. No one could fault his performance. Incidentally, the audience never knew that David McCallum was playing a homosexual. Most of the Freudian sexuality was removed either by Huston or the cutters, along with the film's guts. (Universal International)
---
(New York Post, Friday, October 14, 1983)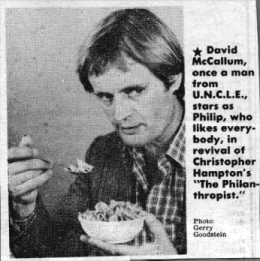 McCallum & Moliere Meet upside-down
By Clive Barnes
LYNNE MEADOW's absolutely smashing Manhattan Theater Club, which last night embarked on its new season, does not specialize in revivals. New plays, often foreign, and the occasional classic are more the order of the day.
However, habits exist to be broken, and here we have MTC kicking off with a revival of Christopher Hampton's English comedy (with some accuracy he dubs it "a bourgeois comedy") The Philanthropist, seen, albeit fairly briefly, on Broadway in 1971.
The play is extraordinarily clever, and on more levels than an elevator. The reason for the revival is possibly – although perhaps I am being unkindly mercenary, or simply practical – the interest of a TV star, and a very good actor, David McCallum, who fancied the work as a vehicle. It is.
With some ingenuity Hampton based his play on a mirror-image of Moliere's The Misanthrope. Moliere's hero disliked everyone, almost on sight, and was scrupulously honest in dealing with the world. It proved disastrous – he lost his friends, his lover, and, in a way, his life.
In this modish update, Hampton's hero Philip tries to like everyone. To the same identical results – he loses his love Celia, just as surely as Moliere's Alceste lost his Celimene.
Hampton's world is a world gone mad. His microcosm is set in a sort of Oxbridge university, where tutors and students eke out the last dregs of privileged education, in boredom and condescension.
Even Philip knows he is boring – because he even bores himself. But he is also complaisant – he will do anything to be agreeable. He will even praise a bad play by a bad poet – note the contrast with Moliere's Alceste here – and the poet disconcertingly responds by literally blowing his brains out.
This, right at the beginning of the play, is a formidable coup de theatre, and, in a sense, even the comic ending, which you should see for yourself, seems nowadays an anti-climax.
That is really the story of this revival, carefully prepared and mounted by Andre Ernotte. The drama, clever in its time, now seems irrelevant.
Some lines survive, as when Philip announces, with some fearful uncertainty: "I am a man with no convictions – at least, I think I am." But most of the play seems, nowadays, and I praised it the first time around, unduly facile.
Everything is meticulously calculated to the point of incredibility. You are forced to gasp – if gasping is your style – rather than sigh.
I could fault the production here. Certainly at first sight David McCallum is no match for Alec McCowen, who first played the role of Philip in London and on Broadway. He hasn't a quarter of McCowen's technique, but that would be true of 99 per cent (a conservative figure) of actors.
Thinking about McCallum – at second sight removed as it were – he possibly served the play better. He presented a figure of charm and innocence wasted, equally as articulate and meaningful as McCowen's more intellectually aggressive performance.
And there were other performances that can stand up to be counted – particularly Glenne Headly sweetly appealing as Celia, the brutish unconcern of Benjamin Hendrickson as a successful novelist whose talents have been extended beyond his English tax bracket.
The play is neatly done. But it falls flat. The last dozen or so years of history have not been kind to it. It sounds as carefully dated as a 1970 calendar – yet, I suspect, it'll never be a period piece, or, nowadays, even a piece, period.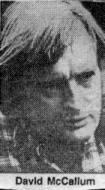 David McCallum, perhaps most familiar to TV iewers (sic) as one of the men from UNCL:E, returns to the New York stage Sept. 27 in the Manhattan Theater Club's production of Christopher Hampton's "The Philanthropist," which opened on Broadway in 1971 to mixed notices. McCallum will play Philip, a professor of philology who is consumed by words. Alec McCowen played the role on Broadway…