TV Zone, July 2006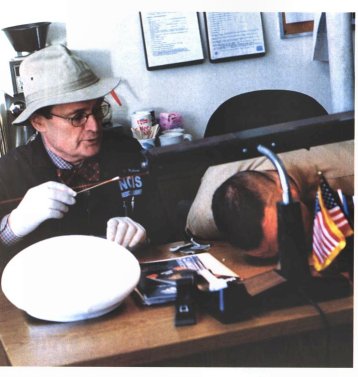 TIME OF YOUR LIFE
Decades after The Man from U.N.C.L.E. and Sapphire and Steel, 72-year-old David McCallum is back at the top in another hit series.
By the age of 72, most people are looking to take things easy, but David McCallum remains hard at work on his latest international hit TV show. Forty years after he became a sex symbol with his floppy blonde hair and turtlenecks in The Man from U.N.C.L.E., playing unflappable Russian agent Illya Kuryakin, he's back in the American television top 10 as 'Ducky' Mallard of NCIS. And he insists he has no intention of ever slowing down.
"The McCallums are not the sort of people to have a railways layout in their basement and take it easy," he says. "There's going to come a point where there's a limit to how much I can do, but I'm not stopping (yippee). If NCIS runs as long as Donald Bellisario's other show, JAG, I'll be 80 when it ends."
McCallum admits he wasn't looking for another TV show when he got the call to audition for the role as the show's pathologist, Dr Donald Mallard. He never expected to get the part, let alone that the show would be a big hit.
"I was doing an off-Broadway play with Jim Dale, and I was thinking whether I really wanted to go on doing off-Broadway when I got the call to audition. I just thought, 'Here we go again, another of those auditions,' and the whole thing went from there. Then it was the press and the parties and the flash bulbs."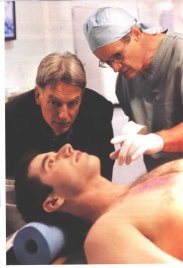 He admits he still finds himself amazed that he's achieved such success once again at this point in his career.
"I'm one of those very lucky people to have had two top ten shows in one lifetime," he comments. "The other day I was driving out to the studio and it was a beautiful day and we are about to do the last scene of the series of NCIS. I thought 'My God, if someone told me 10 years ago I'd be doing this I'd have said they were crazy.' Now people don't call me Illya, they call me Ducky or Doctor wherever I go."
In addition to becoming a huge hit with viewers, McCallum's attention to detail has made him a favourite with real medical examiners. He's been to lectures at the real NCIS training centre, shared a podium with the chief examiner of the United States Forces, had a VIP tour of an aircraft carrier and has even been given his own honorary medical examiner's badge. Of course, most actors who play pathologists manage one gut-wrenching visit to an autopsy, but McCallum has taken learning about the science very seriously.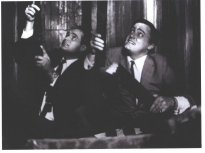 "I've discovered the only way to learn the medical terminology I have to say is to know what it all means," he says. "I have now done 70 shows and there are different bodies in different conditions in each one and I've got to know what I'm talking about.
"In the beginning I would go to the morgue and watch through the glass to see autopsies being performed. Then I actually went in and gowned up and everything, and did a full autopsy with the chief medical examiner. Once you've seen a few from outside you're 50 per cent of the way there, and then when you're there, experiencing the physicality, it becomes about the research and solving the puzzle."
Of course, McCallum isn't the only veteran of The Man from U.N.C.L.E. who's experiencing a fresh career high, as his old U.N.C.L.E. partner Robert Vaughn also has a hit on his hands with Hustle. But McCallum admits he hasn't seen the BBC series, even though it's been shown in the US, or spoken to his old cast mate for years. They even worked in plays round the corner from each other in New York and never met up.
"I am pleased for him, we both work very hard," he says. "It was a crazy time when we were making U.N.C.L.E. Fans would rip up department stores (now who would do a thing like that?) to get at us. Now I get letters from the same people who watched U.N.C.L.E. who write and say what has happened to them in the intervening 40 years."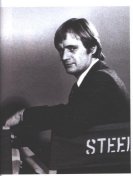 It isn't that there's anything unusual about McCallum having lost touch with Vaughn though, as he says he doesn't have many actor friends in his address book. "I think of myself as a person more than an actor. I find it very difficult to be in a dressing room of actors when the conversation is entirely about the business and what's coming next."
The exception to this rule is Joanna Lumley, with whom he starred in Sapphire and Steel.
"She's a very special person. You can spend a whole day with her and not talk about actors or acting."
His other great thespian friend was Donald Pleasance, whom he met filming The Great Escape. The pair bonded over their shared love of Jaguars and their friendship lasted until the actor's death.
"I was so sad when he died, he was a great friend. But the whole cast was a wonderfully varied group of people. They had a map of the world in a production office and when people went away on weekends – to Paris or LA or New York – they would stick pins in to keep track of where people were. I'd love to see Jim Garner again."
It's become an industry truism that the success of Doctor Who has reinvented family television, and with TV companies eager to give the same treatment to other past successes, including The Prisoner and The Avengers, the rumours are inevitably flying about both U.N.C.L.E. and Sapphire and Steel … but then, McCallum notes, they always have.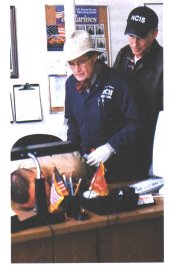 "I don't feel at all protective of them," he says. "But it's not up to me if they remake them. I'm a bit busy to have a part in them now, but if they call me I'll let you know."
The Glasgow-born actor started off by following in the footsteps of his concert violinist father by studying music, but quickly moved into acting, though after U.N.C.L.E. turned him into a household name he recorded a series of hit albums with Capitol Records. His success brought a move from Britain to America and after taking US citizenship he admits he now sees himself as a New Yorker.
"Deep down in part of my brain there are vestiges of Scottishness that come through," he says. "I took a friend back there to show them the places I lived and they had all been knocked down or turned into hotels. I remember as a child being on the golf near Stirling Castle on Victory in Japan night. The entire mass bands of the Argyll and Sutherland were in full regalia at midnight, surrounded by bonfires, marched in a square to celebrate. God, was I Scots then. There's a lot about Scotland that I loved that's not there any more."
And of renewed success, he comments that the only drawback to NCIS is that he has to stay in Los Angeles while he's filming, on the other side of the country from his wife of 38 years, Katherine. But, as he notes, "We're all too busy to miss each other. I have marriage by cell phone. We both love what we do, and then we get together whenever we can. But we are never going to retire and drive round the country in an RV visiting the highest mountain in every state like so many people do. That's just not our idea of any kind of life."