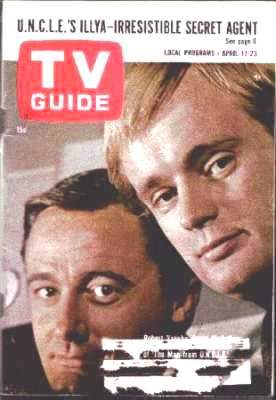 TV Guide, April 17, 1965
The quiet "Man from U.N.C.L.E.," David McCallum, is a dour Scot who can't understand all the fuss the girls are making.
At the Metro-Goldwyn-Mayer studios, within whose storied confines is filmed The Man From U.N.C.L.E., reports had filtered in--presumably from U.N.C.L.E. agents or defectors from the mortal enemy, THRUSH--that David McCallum had assumed an extraordinary status in the hearts of American womanhood. He had become, in the argot, a "sex symbol."
David McCallum, 5-feet, 8-inches at his most stretchable, slight of build, 31 years old, solidly married and the father of three, a product of the Royal Academy of Dramatic Arts, a character actor for most of his career--here was definitely a non-beachboy type and, on reflection, a most unlikely candidate to symbolize sex.
But, as the old-time movie producers used to say, it's the public that decides. This past winter McCallum, who portrays Illya Kuryakin in NBC's epic of James Bond derring-do, was sent out on his first promotion tour on behalf of U.N.C.L.E. The extent of his appeal was quickly established. In Dallas, a gaggle of 50 girls descended on McCallum, his wife Jill, and the accompanying MGM publicist, flattening McCallum against a wall. One of the girls turned to Mrs. McCallum. "Do you mind?" she asked, deferentially, and then she planted on McCallum a resounding kiss.
On the Louisiana State University campus at Baton Rouge, McCallum was surrounded by 2000 screaming coeds, and 14 policeman bustled in to extricate him. At the airport in Springfield, Ill., 500 teenagers greeted McCallum waving placards reading: FLUSH THRUSH and ALL THE WAY WITH ILLYA K. At the Hollywood premiere of "The Greatest Story Ever Told," in which McCallum portrays Judas Iscariot, the stars parading under the marquee included Julie Andrews, Danny Kaye, Charlton Heston--but the fans in the street, largely female, saved their noisiest ovation for David McCallum.
"It's disquieting--that's what it is," says McCallum, who speaks off-camera, as on, with a slight Scottish accent diluted through years of speech training into non-specific British. "With my Calvinist background and my deep Presbyterian blood, with my stiff Scottish spine, to be told you're suddenly a 'sex symbol'--it's just disquieting."
Still, the public really does make its decision on such matters and the mail, on McCallum's behalf, continues to avalanche. "Dear David, Your wild haircut reminds me of an intellectual Beatle," a Chicago teen-ager writes. From New Jersey another teen-age girl expresses her undying affection with "You're the greatest thing since peanut butter and jelly." On a more prosaic note, a boy of indeterminate age wrote in with a reasonable request: "Dear Mr. McCallum, could you please send me a quarter of a pound of explosives?"
After one episode of U.N.C.L.E., in which the script called for McCallum to kiss actress Susan Oliver, three Wellesley College girls promptly wired: "Please, no more kissing. You will destroy your image with us." And to Norman Felton, executive producer, the same Wellesley scholars wrote: "If you hire anyone as a romantic lead opposite Illya Kuryakin, MGM studios and every TV set tuned to U.N.C.L.E. will be blown to smithereens and all Wellesley students will double-cross U.N.C.L.E. for THRUSH." McCallum, in tune with his fans, wired back: "My faithful comrades in arms: Certain subversive THRUSH agents can only be uncovered by a variety of experiences... Regret no man is perfect. [Signed] Illya Kuryakin."
Illya the idol
A long-time studio observer of such phenomena explains, "It's the psychology of the movies or TV idol. The women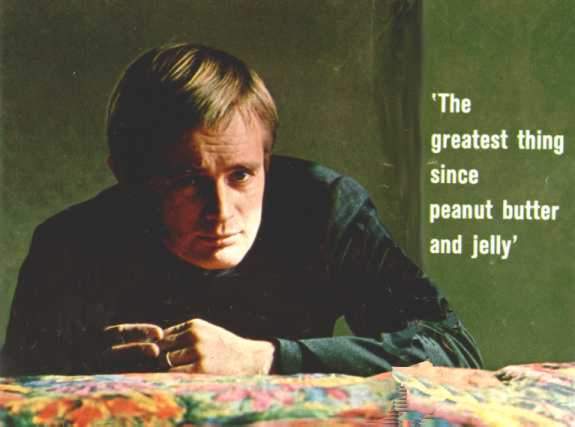 secretly yearn to have him for themselves and they resent any actress as a threat. It's daydream, fantasy stuff, but isn't that what this business is all about?"
If David McCallum, whose previous TV experiences includes roles in Perry Mason, The Travels of Jaimie McPheeters, The Outer Limits and Profiles in Courage, seems an improbable type to emerge as a sex symbol, his characterization of Illya Kuryakin would appear even less likely to bestir such ardent response.Says Sam Rolfe, the producer-writer who developed the series: "I had the lead very well set in my mind. Bob Vaughn, as Napoleon Solo, would be a Cary Grant type. As for Illya, all I knew was that he was a Russian, but it was a vague, smoky thing. David gave the role a life force. The way he plays him, Illya will never be the guy who goes out for sandwiches."
It was McCallum who created the vaguely European, mystic quality and the distinctive Kuryakin costume of black coat, black corduroy pants and black turtle-neck sweater. "I like Illya--I'd like to have him for a friend," says McCallum and then, having purposely lampooned the prize cliché uttered by actors in discussing their roles, erupts into a king-size grin. "Who knows if Illya has any friends? We're not doing a Route 66 here, with a couple of chums on the loose. Napoleon Solo is obviously a swinger. Ah, but Illya is a quiet swinger. Nobody knows what Illya Kuryakin does when he goes home at night."
It was also McCallum who introduced the persistent and intriguing note of friction between Illya and his superior, Napoleon Solo. "I thought a little animosity would add interest," McCallum says.
Surprisingly, considering McCallum's swift rise in what is nominally a second-banana role, no discernible off-stage friction exists between him and Robert Vaughn. "We don't socialize, but then we inhabit different worlds," McCallum explains. "Bob's a bachelor. I'm a family man. In Hollywood, as elsewhere, that's two different universes."
Says Vaughn about his colleague: "David is one of the very few of my acting contemporaries whom I respect. He's a pro. He knows his business. Most American actors don't come up to David's level after seven years in analysis."
McCallum returns the compliment. "We have an unspoken mutual respect," he says. "Bob and I, we never worry about treading on each other's toes. And we never complain about the series like a 'grumble' of actors. A pride of lions, a bevy of girls, a 'grumble' of actors--put two TV series actors together and they compare complaints. Well, I say if an actor can't make his work interesting, he should try another trade."
David Keith McCallum was born 31 years ago in Glasgow, Scotland, second son of David McCallum, a violinist who later became concertmaster of the London Philharmonic Orchestra, a position he still holds, and Dorothy McCallum, an cellist. His parents met in the orchestra pit of a theater where they played accompaniment to silent movies.
He ended up with an oboe
The urge to act struck early, but David was first pressed into music. "I ended up with the oboe--the ill wind nobody blows good," McCallum says. "I could wham my way through symphonies but I hated to practice. So, I had this uncle who needed an oboe and I sold it to him for 85 pounds."
As a child actor, David worked on BBC radio shows, displaying a precocious proficiency with dialects. "Perhaps I grew up too fast," McCallum reflects. "When I should have been bashing around and punching other kids, I was preparing for an artistic career but not a competitive society. I never roughed it. I missed the aggressive age. Probably led to my introvertive streak."
After two years at the Royal Academy, a stint as a prop man with an opera company, another two years in the British Army, including 10 months in Ghana as a small-arms expert, McCallum returned to acting with repertory companies in the English provinces. By 1957, after a rigorous apprenticeship, he was a rising player in British films. In the same year he spotted a magazine portrait of an unconventionally lovely English actress named Jill Ireland and set out to marry her, which he did seven days after they were introduced.
Today the McCallums and brood--Paul, 7, Jason, 3, and Valentine, 2--live in a four story, 11-room Spanish style house in the Hollywood hills, a location chose with typical Scot acumen. "If you take all the studios in Hollywood and draw a circle connecting them, our house would be right in the center," McCallum says with a touch of pride.
McCallum likes to quote a line from the script of a Profiles in Courage in which he played John Adams. "Adams would say, 'I am not what people think I am.' I suppose I'm not, either." McCallum fits no mold. At once, impish-humored and serious, he talks knowledgeably of the theater, of art, literature, music (he composed the theme for an Outer Limits); he can also wire a house and he put together his own stereo with multiplex receiver.
When anger overtakes him--he is occasionally victim to churning, unreleased rage caused by someone else's or his own real or imagined ineptness--McCallum will drive to downtown Los Angeles and wander about that unappealing area.
"I go to negative places for therapy," McCallum says with moderate seriousness. "When I can't sleep at night I'll go see a wide-screen, cornball semiromantic picture like 'Vera Cruz,' or I'll see some pretentious foreign movie."
Although he refers to himself as a "dour Scot," McCallum dissolves with laughter at Laurel and Hardy comedies, and pie-throwing slapstick leaves him helpless.
"We Scots, we tend to be awfully tight inside," McCallum says with resignation. "We have a tremendous emotion underneath. It stirs there, untapped. The problem is wrenching it out. It has hurt me as an actor to be so--so naturally restricted. I had to learn to expand, to give. Acting is more than just learning words and spouting them and being given money for it. Acting is giving. I have not idea what being a 'sex symbol' is."