From Woman's Weekly, 27 August, 1991
The happiness and heartbreak of David McCallum
He's known triumph, as the heart-throb star of The Man From UNCLE. And he's known personal tragedy, with the death of a much-loved son. Today, David McCallum is a man of charm and compassion, a man at ease with himself. Ian Blair reports.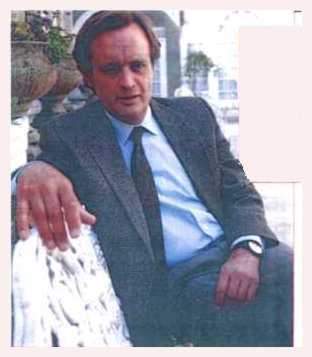 "It's a funny thing about growing older," says David McCallum. "When you're 17, and imitating an old person, you tend to band over and shuffle about awkwardly and talk in a high, weak, quavery voice, li-i-ike thi-i-is. When you really are older, you realize all it means is that you can't play tennis and win against the younger guys! the other day I told my children that I am going to be 60 in a few years' time and they just fell about laughing." He pauses, tries to pretend to be outraged at the lack of respect, and fails. "It was quite nice, actually," he admits.

David McCallum is himself an extremely nice man who has had his share of ups and downs. The ups include a happy second marriage and family life; and a flourishing career that has taken him from child actor and trendy RADA student to The Man from UNCLE pinup Illya Kuryakin, and then a comfortable middle age of doing pretty much what he likes. The downs have been the break up of his first marriage to actress Jill Ireland; a less than flattering portrait of him in her book Life Lines, and the death by drug overdose of his adopted son Jason last year. today he is relaxing in the comfortable, cluttered living room of his new York City apartment: "I told my wife I wanted it to be like one of those old-fashioned English country houses, full of photographs and... things that had been added through he years," he says, in the deep voice that still retains a faint Scottish burr. By nature he's a cheerful person, he agrees.

"I'm an optimist. You really have to be, or life simply isn't worth living. Besides, the world's not such a bad place. Too many people look on the dark side these days, which offends me. You're not supposed to be too ambitious, for example, which is just ridiculous."

David McCallum has been acting ever since he can remember. "I came out of the womb spouting my lines. My mother's favourite story was that she took one look at me and said, 'That one's been here before.' She was quoting that bout me to the day she died."

It was a happy childhood that, because David's father was a musician, moved all over Britain, starting in Glasgow where he was born, and progressing, via venues such as Scarborough Pier and Llandudno Pier, to London, where McCallum Senior became first violinist to the London Philharmonic. The war saw David and his brother Iain evacuated to Scotland, where an uncle had a farm by Loch Lomond; then, in 1943, he returned to London and school in Hampstead. "One week I was a Scots lad by yon bonnie banks and the next I was running across Hampstead Heath in a black and maroon blazer. I liked both places. I tend to be happy wherever I am."

Besides, says David McCallum, he was too busy in those days, dreaming of the footlights, to pay much attention to where he was living. "I just wanted to perform. Always. When did I first know it? Let's think. I went to the Golders Green Hippodrome, in the late Thirties -- a violinist my father knew had got me a ticket to the matinee of Me and My Girl, where he was playing in the pit. I loved it so much, I stayed on for the evening show as well. My mother was ready to call the police out -- she'd expected me home hours before. But I think it was that show that first really attracted me. It was vaudeville, so there was a lot of singing, a lot of cockney humour, a lot of...cheekiness. I was only seven or eight, but I think I knew then that I wanted to be part of it all."

As a child, David studied music -- "the violin because my father did, then the cello because it was easier, then the oboe because I like it" -- until he decided to concentrate on acting. After a few teenage roles on BBC and a stint in RADA, he landed the part of Judas in The Greatest Story Ever Told, and moved to Hollywood. There he found himself doing rather too much "resting" for his taste, until one day, after almost a year's unemployment, he decided to kill a couple of hours having lunch at MGM. Someone happened to mention a pilot that was being shot for a new spy series, and having nothing better to do, he agreed to a two-line part as a Russian working for the Americans. And so, Illya Kuryakin was born.

At the time of The Man From UNCLE's massive popularity in the mid-Sixties -- at one stage it generated 60,000 fan letters per month -- he was given to joking rather grimly, that "When they bury me, the grave marker will read, Here Lies Illya Kuryakin, once known as David McCallum."

These days, however, he can take a lighter view. "It was just ridiculous. We used to laugh hysterically about it all. I'd just met my wife, Katherine, at that time, and it really made us giggle. One letter printed in a magazine said that Illya was the best thing since peanut butter and jelly! We both thought that was the funniest thing we'd ever heard. Did it put pressures on our relationship? Good lord, no. You just laugh and enjoy it, and wait for it to blow over."

One thing that has not blown over in the years since The Man From UNCLE is his relationship with the beautiful former model, Katherine Carpenter. They have been together for 25 years and married for 20 - something of a record in a profession where failed marriages are as common as face-lifts, and more easily discussed.

"An unusually long marriage? So I believe," he agrees, a little cautiously. "No, I can't say I know how we've done it. Katherine is a very special person, of course. She's a great mother, and she works too - she's a successful designer. We're both busy, which helps. And we enjoy each other!"

And no, he will not have it that being married to an actor poses any particular difficulties. "She's not married to an actor: she's married to me. Of course, my profession does create some problems - I'd say the worst is the separation when I have to travel to work. But we deal with that. And in compensation, I do spend a lot of time at home when I'm not working, which people in more conventional jobs probably don't."

The couple live happily in New York City, overcrowding, crime, and all - "You just have to learn to deal with it," he says breezily - with their two children who, to his incredulity, are virtually adults. Peter is a 19-year-old college student - "Can you believe it?" he asks, grimacing in horror at the thought. "My baby is going to be twenty!" - and Sophie, currently away at boarding-school, is a self-possessed 16.

"She's a very sophisticated young lady. She's my only daughter. You know how people say fathers spoil their daughters? Well, forget it. They have a love affair with them. A wild, stormy, wonderful relationship that's like nothing you could imagine if you haven't experienced it. It's unique

"One thing I don't say very often, because I don't like to compare people, is that in Sophie I see a lot of my mother's character. She looks like my mother, too, and what is interesting is that she has a lot of her mannerisms - tiny, personal things. like the way she brushes her hair back with her hand, or even the way she cleans her teeth. I like that, because it means that my mother lives on. It'll be interesting to see what the next few years bring - for all of my children."

Tragically, as has been well documented, death has already struck his young family. Following his divorce from Jill Ireland, he was, for some years, out of contact with their three sons, Paul, Jason and Valentine. These days, he is close to Paul and Valentine; but Jason, sadly, died a drug addict's death last year.

"He died of an overdose of drugs," says his father, slowly, but steadily. "If you think of the things you're supposed to feel when a child dies, and then multiply them by as many hundred times as you like, then you might just possibly have some idea of how it really feels. I feel anger, I feel sadness, I feel responsibility. And then, of course, because Jason didn't live with me as my son, I had no control over him when he was growing up. Anything I might have said ... about some of the influences he was exposed to, would have been totally ignored. And then he died, and not only that, he died in that degrading and horrible way. Yes, I feel angry and sad."

In the late Jill Ireland's account of her struggle with Jason's addiction, Life Lines, the suggestion is made that after the divorce, David wanted nothing to do with his first family. All David himself will acknowledge is that there was another side to the story.

"I didn't see my eldest children for a long time," he agrees. "Of course it was hard, but you just got on with it. I lived in New York, they lived in Los Angeles, for a while we just kept in touch by letters. When you're involved in a divorce that isn't friendly, when it includes animosity and anger, and when you're only a child yourself, you tend to believe the story given by whatever camp you happen to be in. You're not given any reason to believe otherwise. When you're old enough to make up your own mind, then you begin to see that there might have been more to it. Paul is the eldest: he was the first to pick up the telephone and say hello to me, to talk to me. The others followed. It took a little while. But we're all close now."

As for his former wife's books: "I have no comment on her books. Her first [Life Wish, the story of her fight with breast cancer] did a superb job of helping people with the same problem as she had. I don't want to discuss the other, because it was a work of fiction." Case, very firmly, closed.

The future is what he wants to talk about. Next month we'll see him in a new BBC TV series, Trainer, set in the world of horse-racing. He's just guest-starred in the Murder, She Wrote series; is about to film, simultaneously, two parts - "small, but good, which is the way it seems to be as you get older" - in two different films, Fatal Inheritance and Hear My Song, and has also finished playing a Broadway producer in the Jackie Collins mini-series, Lucky Chances.

"It's a real Jackie Collins plot. Very clever, with lots of crime, sex, drugs, beautiful girls, handsome young men, terrific clothes, fast cars - everything. And I saw a lot of Jackie, which is always fun. I've always loved her. I was at RADA with Joan back in the late Forties and early Fifties, and I'd go home with her to her apartment just by Great Portland Street tube, and there would be her little sister, Jackie, who was about 12. So we do go back.": and he smiles fondly. He must be one of the few men in the western hemisphere who feels brotherly towards the redoubtable Jackie Collins.

One thing that David McCallum is rather good at is appreciating life's pleasures. Of which, indeed, for a man in his position, there are plenty. Fatal Inheritance and Hear My Song will be filmed in Ireland, which he has never visited, and he is eager "to dig out the soul of the country", and also to indulge his great passion for golf.

After Ireland he'll return to New York to his family and friends, to go to the movies, to enjoy his home, to poke around the city - "It's amazing: you're always finding new parts you had no idea were there."

Yes, life is sweet and no mistake.